DJI Mavic 3
Imaging Above Everything
Masterpieces Await
4/3 CMOS Hasselblad Camera
5.1K Apple ProRes 422 HQ
46-Min Max Flight Time
Omnidirectional Obstacle Sensing
15km Video Transmission
Advanced RTH
Overview
Capture legendary content with a 4/3 CMOS Hasselblad camera and enjoy smooth flight with omnidirectional obstacle sensing. Every upgrade on DJI Mavic 3 sets a new benchmark for what aerial photography can be. Fly with Mavic 3 and discover imaging above everything.
* Two Cameras
Hasselblad & Tele
Hasselblad L2D-20c Camera
The Legacy Continues
Iconic Swedish camera brand Hasselblad has customized the L2D-20c aerial camera for DJI Mavic 3, embedding a professional-grade 4/3 CMOS in a sleek and compact form. Rigorous Hasselblad standards are applied to both hardware performance and software algorithms, bringing imaging quality to an entirely new level.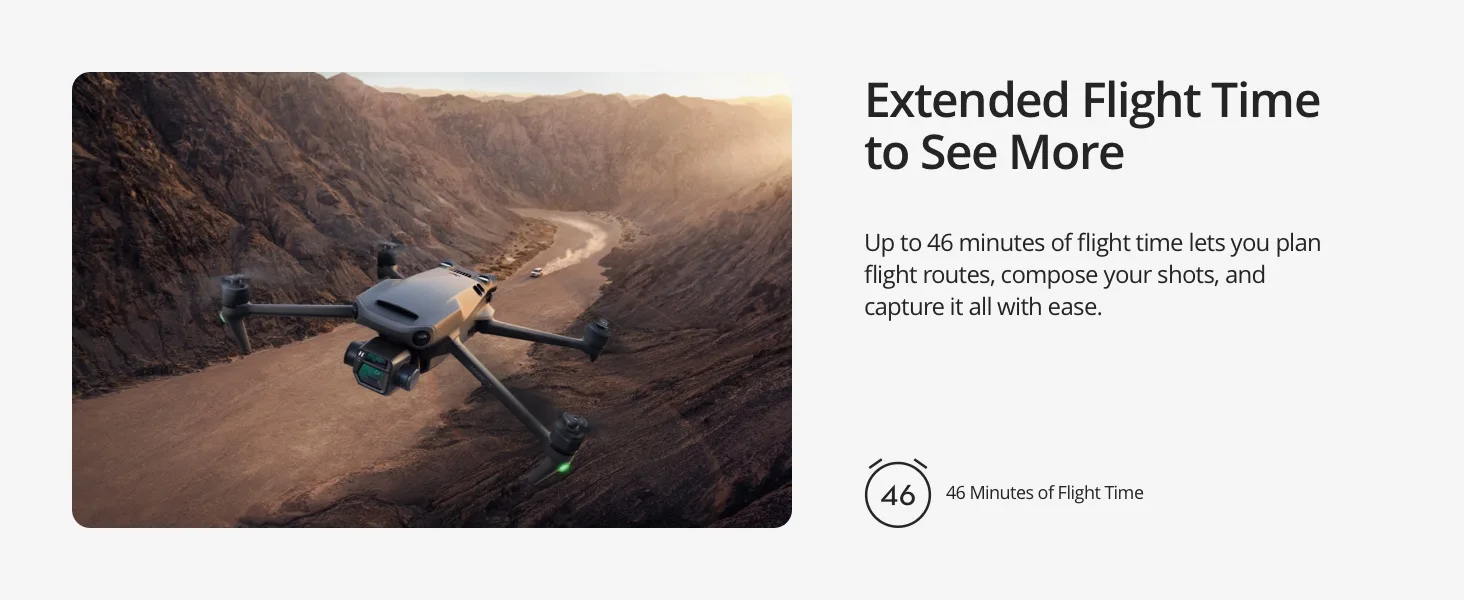 4/3 CMOS Hasselblad Camera
            20MP Photos
12.8 Stops of Dynamic Range
            f/2.8-f/11 Adjustable Aperture
            24mm Equivalent Focal Length
            Vision Detection Auto Focus (VDAF)
4/3 CMOS
A larger image sensor not only gives Mavic 3 higher resolution and dynamic range, it also more effectively suppresses noise in low-light environments.
12.8 Stops of Dynamic Range
The 4/3 CMOS sensor comes with a 12.8-stop dynamic range to retain more details in highlights and shadows, elevating imagery to a professional level.
Adjustable Aperture
Adjustable aperture is available to meet the needs of aerial photographer in a wide variety of lighting scenarios.
Wide 84° FOV
Weighing just 12.5 grams, the 24mm equivalent autofocus lens has an 84° FOV to capture more details with sharp clarity.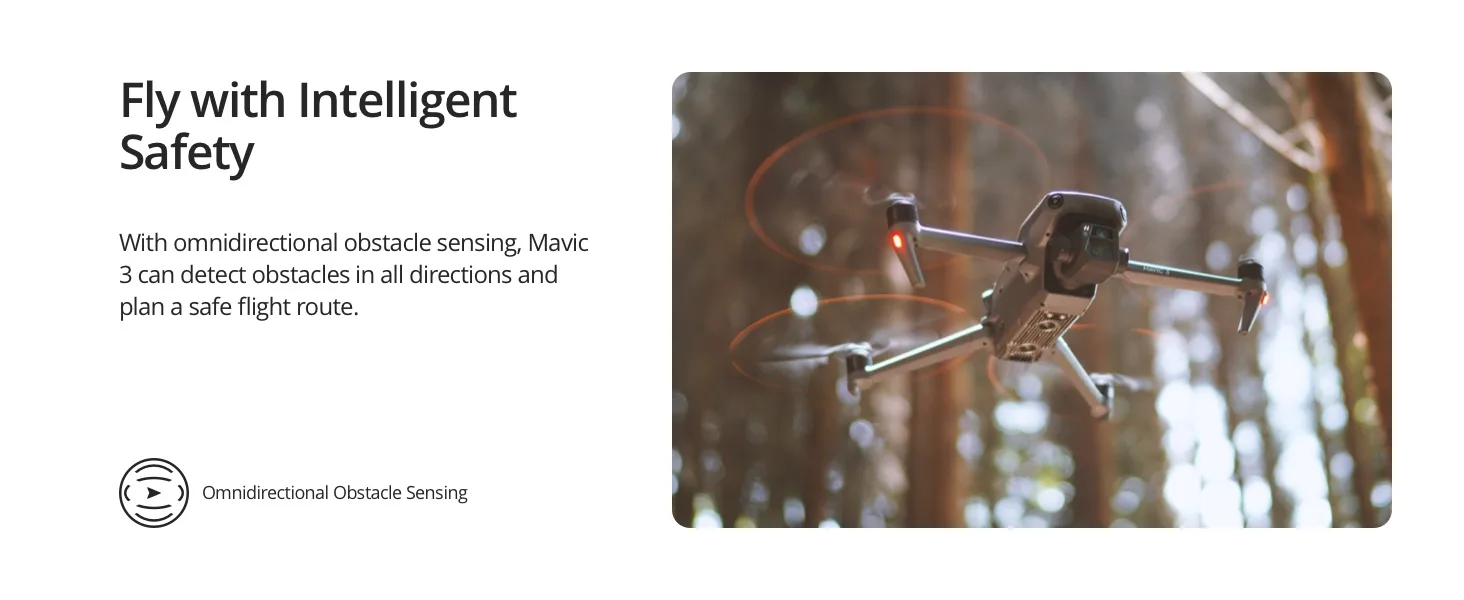 Vision Detection Auto Focus (VDAF)
The Hasselblad camera on Mavic 3 features VDAF technology, which works with multiple vision sensors to utilize distance data and optimize focusing speed.
Hasselblad Natural Colour Solution
Mavic 3 features the Hasselblad Natural Colour Solution (HNCS), which is the result of decades of photographic experience. This ensures vividly accurate natural colors that look spectacular even without presets or editing in post.
No Need for Post-Processing
Relying on complex post-processing has never been part of Hasselblad's philosophy. Starting from the pixel level of the sensors, the Hasselblad Natural Colour Solution (HNCS) ensures natural and highly accurate colors are captured, no matter where you're shooting.
Pixel-Level Calibration
To ensure Mavic 3 captures color with the same iconic quality as other Hasselblad cameras do, the L2D-20c lens adopts the same rigorous standards, with every pixel of the sensor calibrated with the HNCS embedded.
Accurate Colors
During shooting, RGB color data obtained by the sensor will be converted through Hasselblad's unique image processing algorithm and color processing mode, delivering the best possible natural colors in any scene.
Professional Video Specifications
            5.1K Video Recording
            DCI 4K/120fps
            Apple ProRes 422 HQ [1]
            10-bit D-Log Color Profile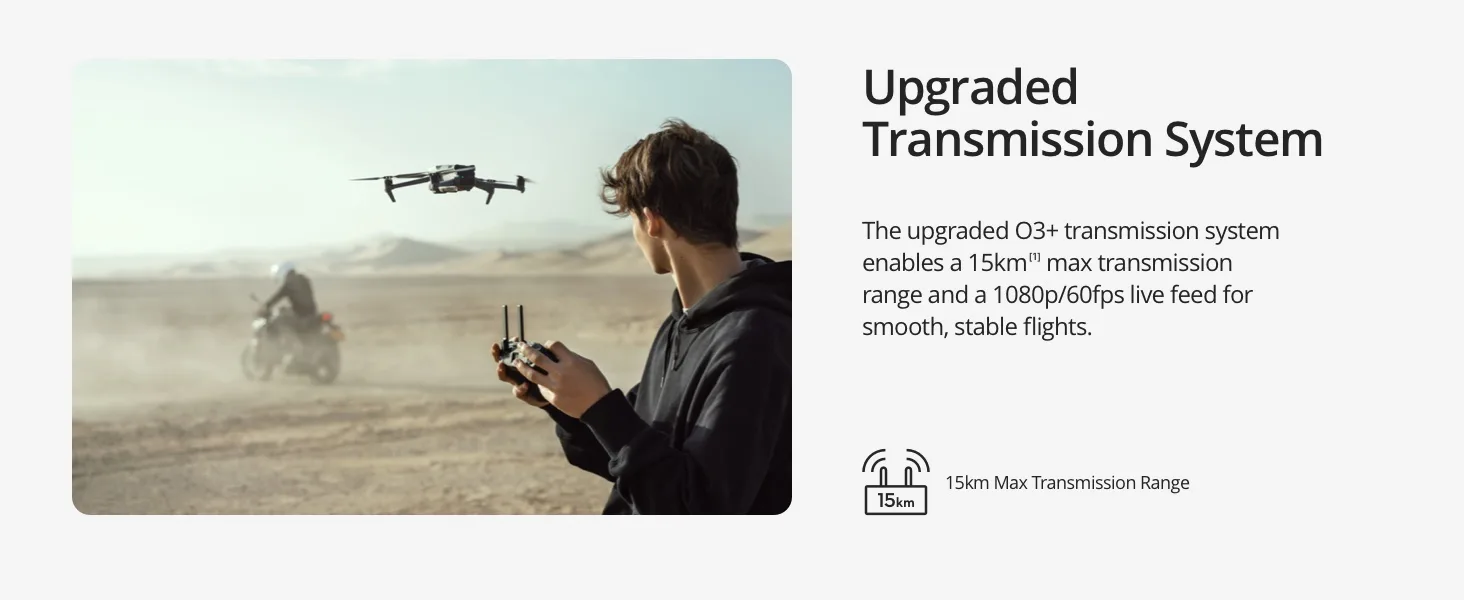 Mavic 3 uses its professional imaging performance to record aerial videos at high resolutions and frame rates. Its camera also captures up to one billion colors thanks to a 10-bit D-Log color profile, offering natural color gradations and advanced flexibility in post-production.
Mavic 3 Cine supports Apple ProRes 422 HQ encoding with a maximum data rate of 3,772 Mbps. [1] It also supports a built-in 1TB SSD and 10Gbps lightspeed data cable to further facilitate professional filming, editing, and creation.
Tele Camera
Explore Mode
A unique tele camera makes Explore mode the perfect way to scout and plan your shots.
28x Hybrid Zoom
162mm, f/4.4
When scenes or subjects are far away, use the tele camera to zoom in and save time. You can even use it to record subjects from a distance without disturbing the scene.
Fly On
Flight Safety
Omnidirectional Obstacle Sensing
The advanced safety features of Mavic 3 let you spend more of your time focused on getting the perfect shot. Multiple wide-angle vision sensors work seamlessly with a high-performance vision computing engine to sense obstacles in all directions precisely and plan safe flight routes to avoid them.
Advanced RTH
Enjoy the Flight
APAS 5.0
Mavic 3 also makes flight more fun with recording that is no longer interrupted by obstacles along the way. When flying, Mavic 3 continually senses objects in all directions and bypasses them smoothly and quickly.
Upgraded Performance
46 Minutes  Extended Flight Time
15 km  Video Transmission Range
1080p/60fps  FHD High-Frame-Rate Live Feed
4G Transmission  Enabled with the DJI Cellular Transmission Dongle
Precision Positioning  Highly Accurate Positioning Technology
Even More Functions
            Waypoints 3.0
            ActiveTrack 5.0
            MasterShots
            Wi-Fi 6 QuickTransfer
            100MP Pano
            Trimmed Download
IN THE BOX :
DJI Mavic 3
DJI RC-N1 Remote Controller
DJI RC-N1 Remote Controller Control Sticks
DJI RC-N1 RC Cable (USB Type-C Connector)
DJI RC-N1 RC Cable (Standard Micro-USB Connector)
DJI RC-N1 RC Cable (Lightning Connector)
DJI Mavic 3 Intelligent Flight Battery x 3
DJI Mavic 3 Low-Noise Propellers (pair) x 6
DJI Mavic 3 Battery Charging Hub
DJI 65W Portable Charger
DJI Mavic 3 Storage Cover
DJI Mavic 3 ND Filters Set (ND4\8\16\32)
DJI Convertible Carrying Bag
Type-C Cable