Brand Name: 

DJI

DJI Model: 

DJI Mini 3 Pro

GPS: 

Yes

Camera Features: 

4K HD Video Recording

Sensor Size: 

1/3.0 inches

Flight Time: 

34min

Aircraf Operating Frequency: 

2.4GHz,5.8GHz

Origin: 

Mainland China

Camera Integration: 

Camera Included

Remote Distance: 

12KM

FPV Operration: 

Yes

Drone Battery Capacity: 

2453 / 3850

Camera Mount Type: 

3-axis Gimbal

Max Flight Time: 

40 mins

Connectivity: 

Remote Control

Pixels: 

20 million

Aerial Photography: 

Yes

Control Channels: 

4 Channels

Certification: 

CE,FCC

Transmission Range: 

12km

APP Supported Languages: 

Japanese,French,German,Italian,Spanish,Korean,Dutch,Portuguese,Latin American Spanish,Brazilian Portuguese,English,Simplified Chinese,Traditional Chinese,Swedish,Polish,Greek,Turkish,Russian

Drone Weight: 

249g
Overview :
Weighs Less than 249 g
Tri-Directional Obstacle Sensing (Forward/Backward/Downward)
Record Up to 4K/60fps Video and 4K/30fps HDR Video
34-min Max Flight Time
True Vertical Shooting
FocusTrack (ActiveTrack, Spotlight, and Point of Interest)
MasterShots
Timelapse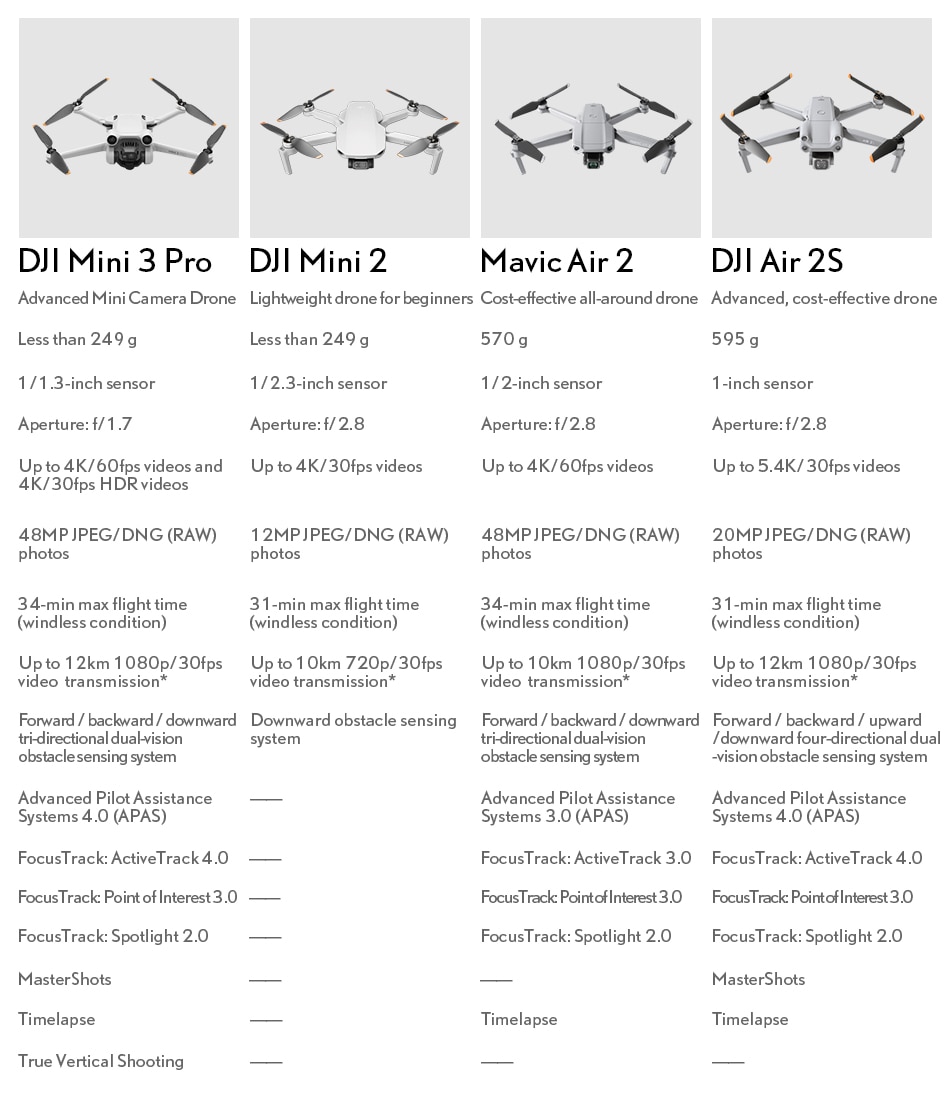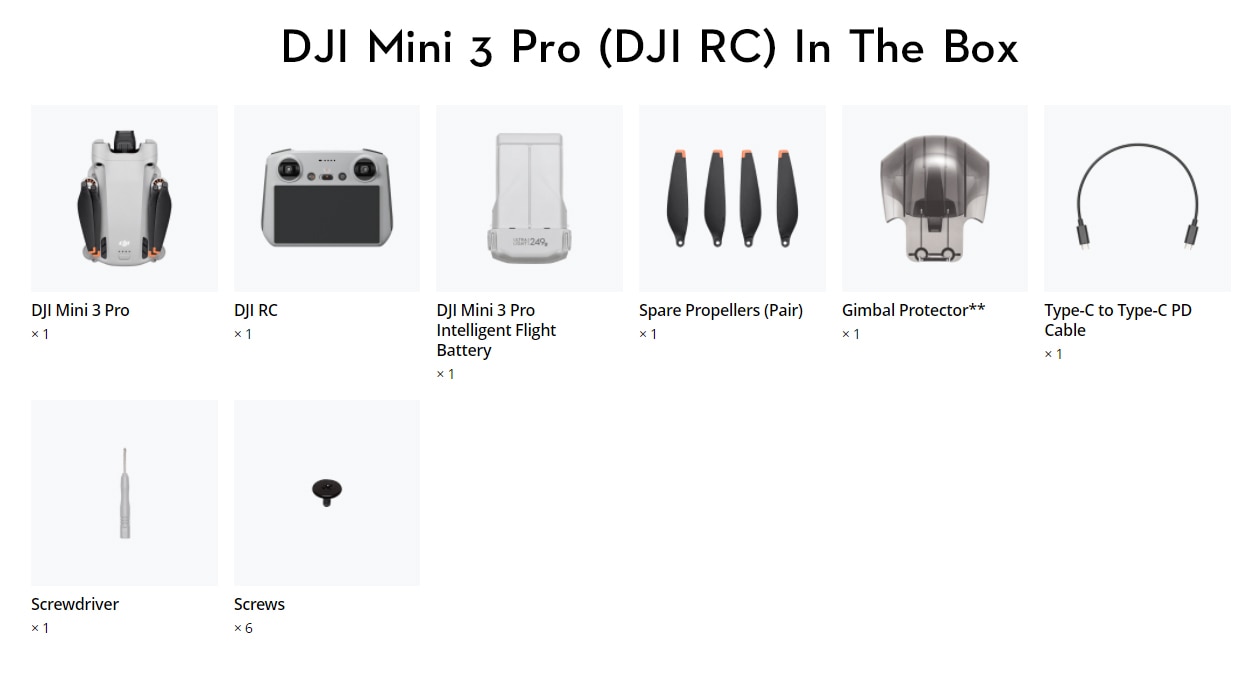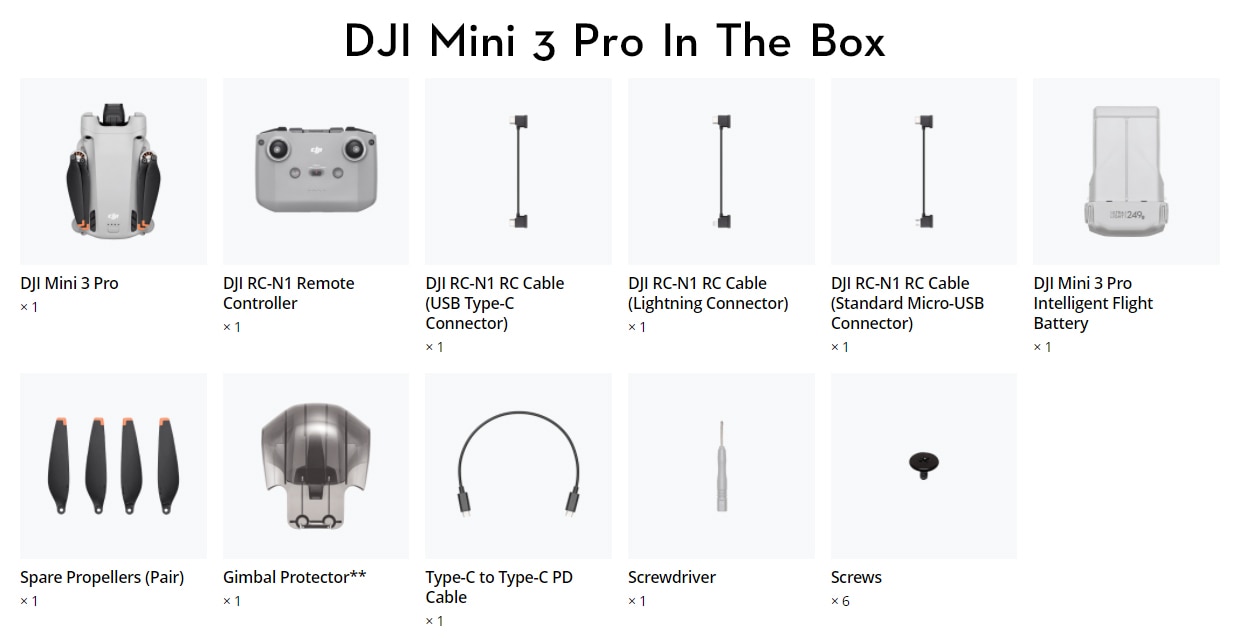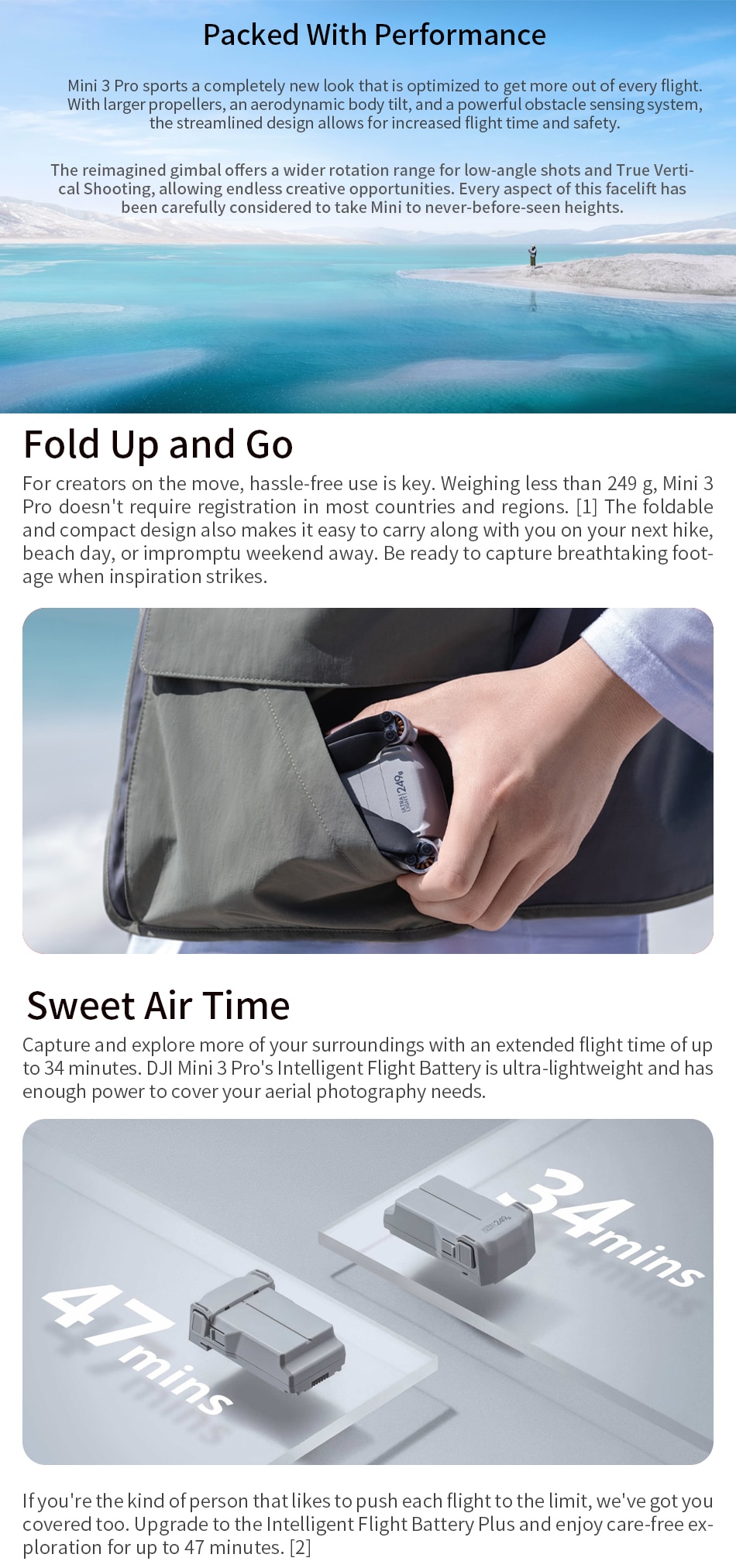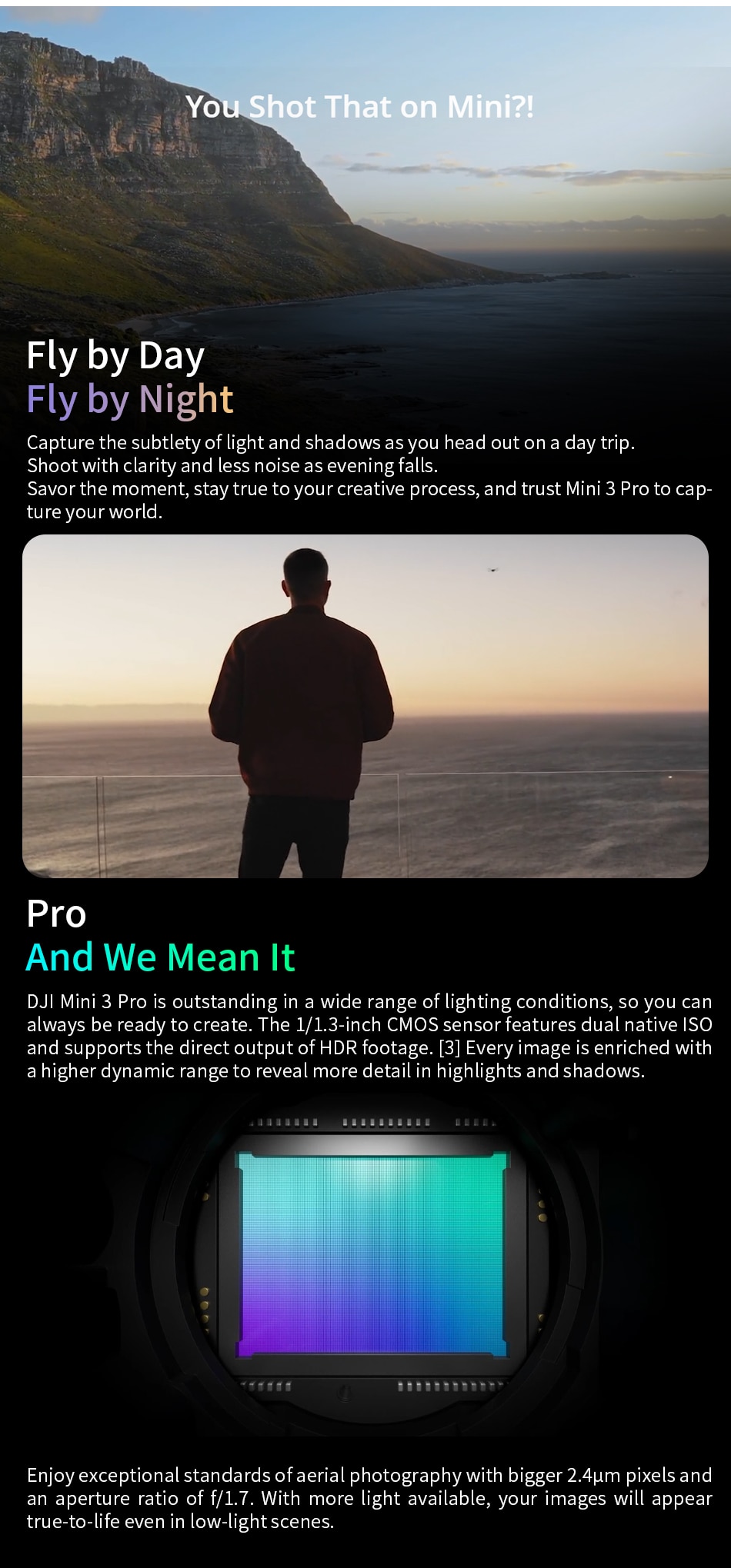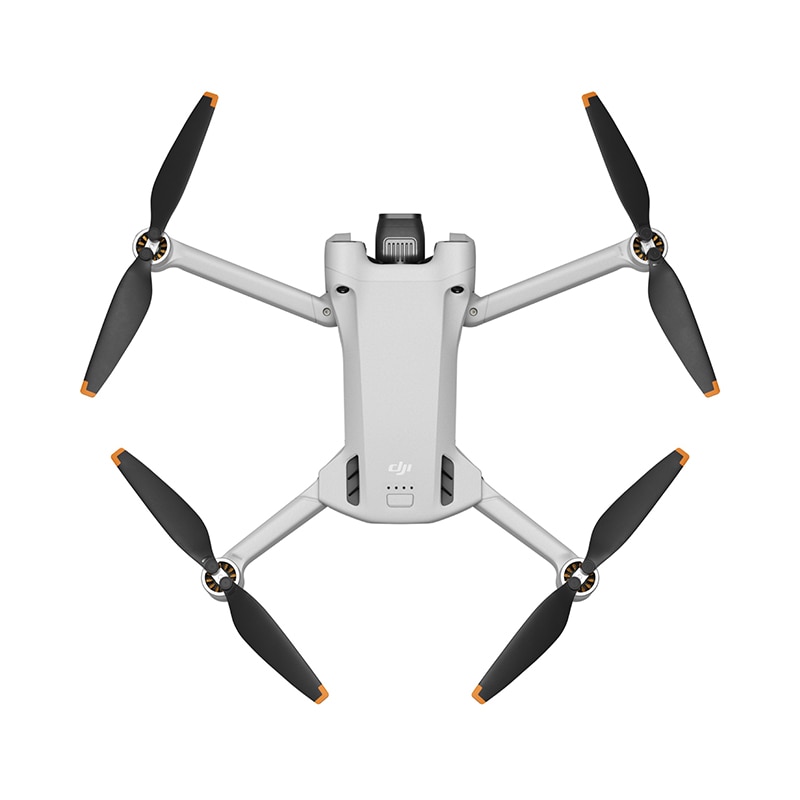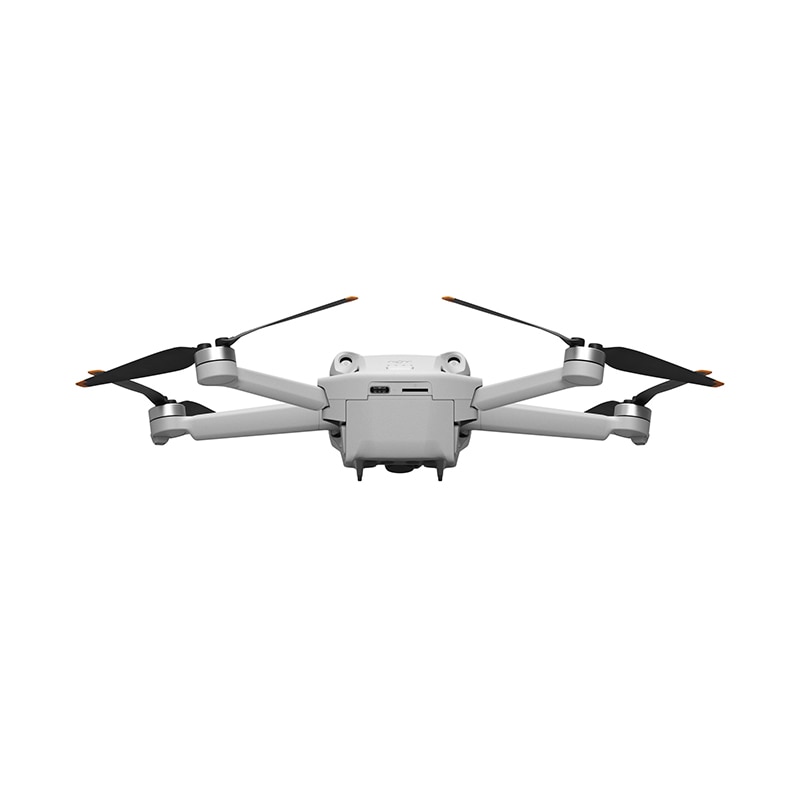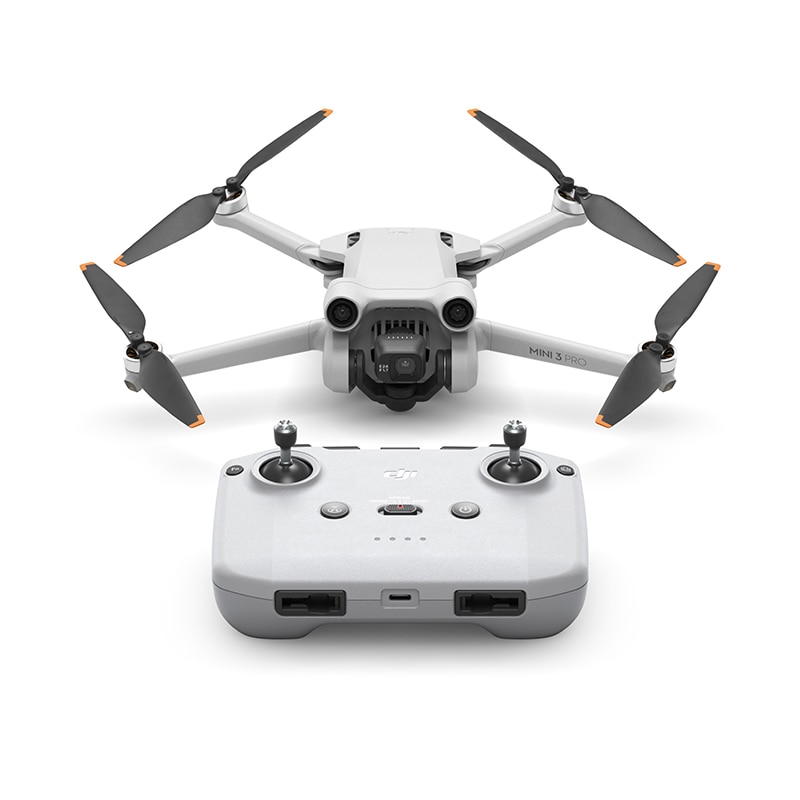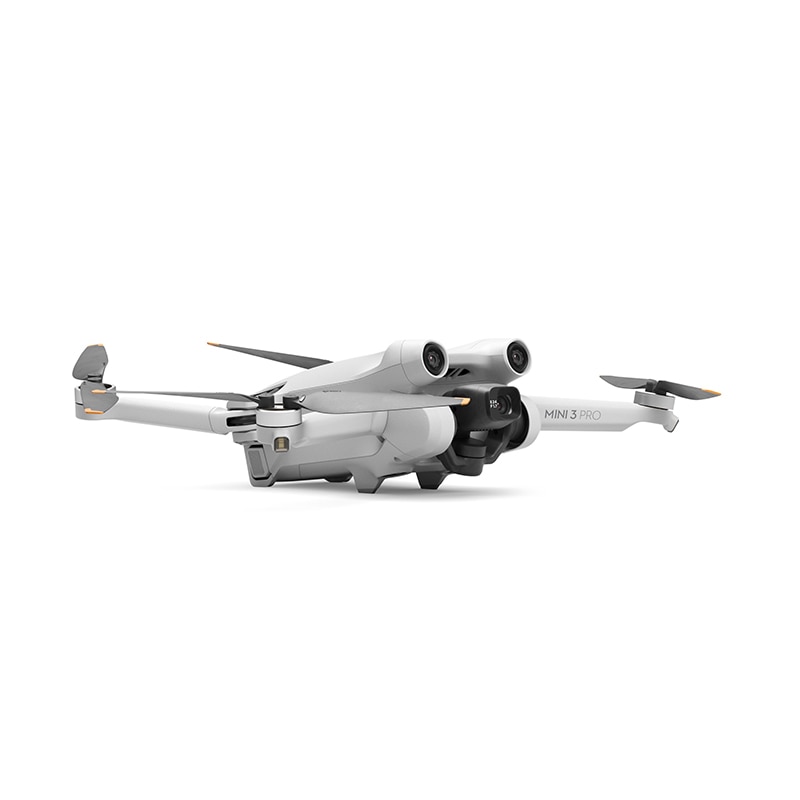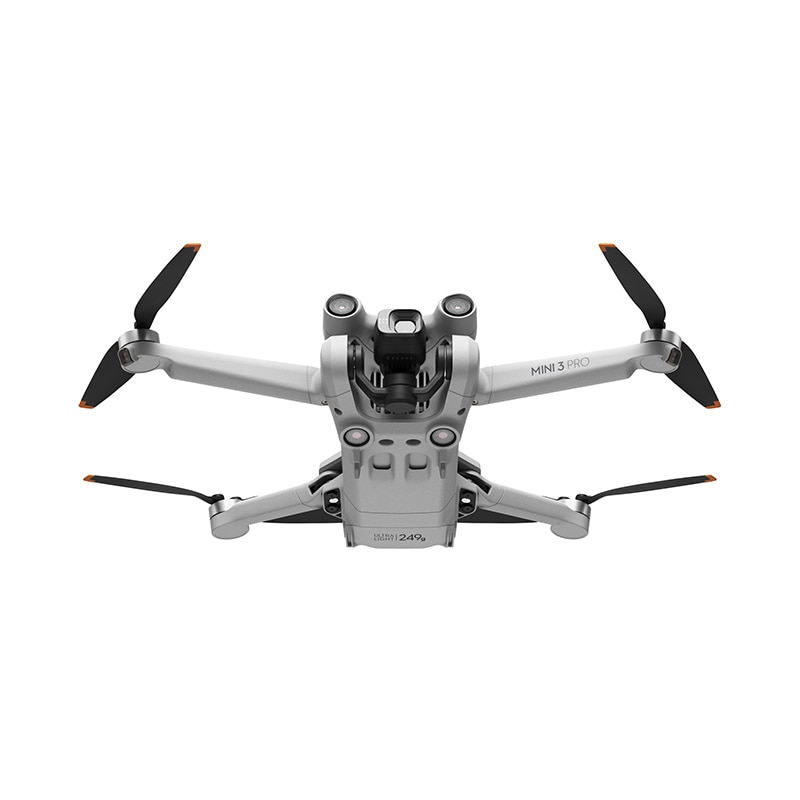 Let's Answer Your Questions
Compared with previous products, what upgrades does DJI Mini 3 Pro have?
Compared with DJI Mini 2 and Mavic Air 2, DJI Mini 3 Pro has improved battery life, intelligent features, video transmission, and a fully upgraded imaging system and visual sensing system.
Specifically: Inheriting the 249 g light and compact body, DJI Mini 3 Pro comes with a 1/1.3-inch image sensor that supports native HDR. It supports three-directional obstacle sensing and the newly upgraded APAS 4.0 (Advanced Pilot Assistance Systems). It supports DJI O3 FHD digital video transmission, ensuring a stable live feed at distances of up to 12 km. DJI Mini 3 Pro also supports intelligent features like FocusTrack, True Vertical Shooting, Timelapse, MasterShots, and High-Speed QuickTransfer.
What are the differences among DJI Mini 3 Pro (No RC), DJI Mini 3 Pro, and DJI Mini 3 Pro (DJI RC)?
DJI Mini 3 Pro (No RC) does not include a remote controller. You can use the DJI RC-N1 that you already own. DJI Mini 3 Pro Includes DJI RC-N1. DJI Mini 3 Pro (DJI RC) includes the all-new DJI RC, which has a built-in 5.5-inch 1080p HD display specially made for outdoor scenarios, providing crisp viewing even under direct sunlight. It comes with the DJI Fly app pre-installed for control over your aerial photography.
Why does DJI Mini 3 Pro have an all-new look?
DJI Mini 3 adopts a redesigned structure and form, bringing the following advantages:
1. Longer flight time at the same compact size: The new form and design allow the drone to carry larger propellers and improve the propulsion efficiency of the propellers and the aircraft, bringing longer flight time.
2. Broader environment sensing range: The new design enables the drone to carry sensors with a larger FOV, further increasing the sensing range and distance. DJI Mini 3 Pro thus provides more powerful visual sensing capabilities, improving flexibility and safety during flight and obstacle avoidance.
3. True Vertical Shooting and expanded axes: The new design allows users to get portrait shots without the need for digital cropping. Fewer gimbal limits mean more shooting angles and added creative freedom. During high-speed flight, the aircraft angle also has less restrictions on the gimbal and the shooting angle.
What is the wind speed resistance of DJI Mini 3 Pro?
The max wind speed resistance of DJI Mini 3 Pro is 10.7 m/s (Level 5).
* Wind resistance is dependent upon propulsion. Under strong winds, due to the lightweight nature of the drone, slight vibration is expected. High-powered propulsion ensures the drone hovers stably or returns to home safely. DJI Mini 3 Pro automatically controls the gimbal to adjust slightly to ensure that the footage is always stable and not affected by the wind.
Does DJI Mini 3 Pro support Manual mode for shooting photos and video?
Yes. You can manually set camera parameters like shutter speed, ISO, and white balance in the DJI Fly app.
Compared with OcuSync 2.0, how has DJI O3 Video Transmission been upgraded?
The DJI O3 Video Transmission System uses an all-new solution and upgrades dual antennas to four antennas to bring FHD video transmission at distances of up to 12 km (FCC compliant and with no obstructions). Additional anti-interference capabilities further improve transmission stability in cities and other complex environments.
How has the High-Speed QuickTransfer of DJI Mini 3 Pro been upgraded?
DJI Mini 3 Pro's High-Speed QuickTransfer supports the fast transmission of photos and videos at up to 25MB/s.
What DJI Mini 2 accessories can be used with DJI Mini 3 Pro?
DJI Mini 3 Pro is compatible with DJI 18W USB Charger and DJI RC-N1 and its related accessories (DJI RC-N1 RC Cable, DJI RC-N1 Remote Controller Monitor Hood, DJI RC-N1 Remote Controller Tablet Holder, and DJI RC-N1 Control Sticks). Other DJI Mini 2 accessories are not compatible with DJI Mini 3 Pro.
Before using DJI Mini 3 Pro, what app do I need to install?
DJI Mini 3 Pro can only be used with the DJI Fly app. You can download the DJI Fly app from the Downloads page on the DJI official website. Please check compatibility on the website.
* If you are using DJI RC as the remote controller, it comes with the DJI Fly app pre-installed.
Do I need to register or get a license to fly this drone?
In most countries, drones under 250 g don't require registration or a license for flying. Please refer to local regulations before deciding which drone to buy and when to fly.