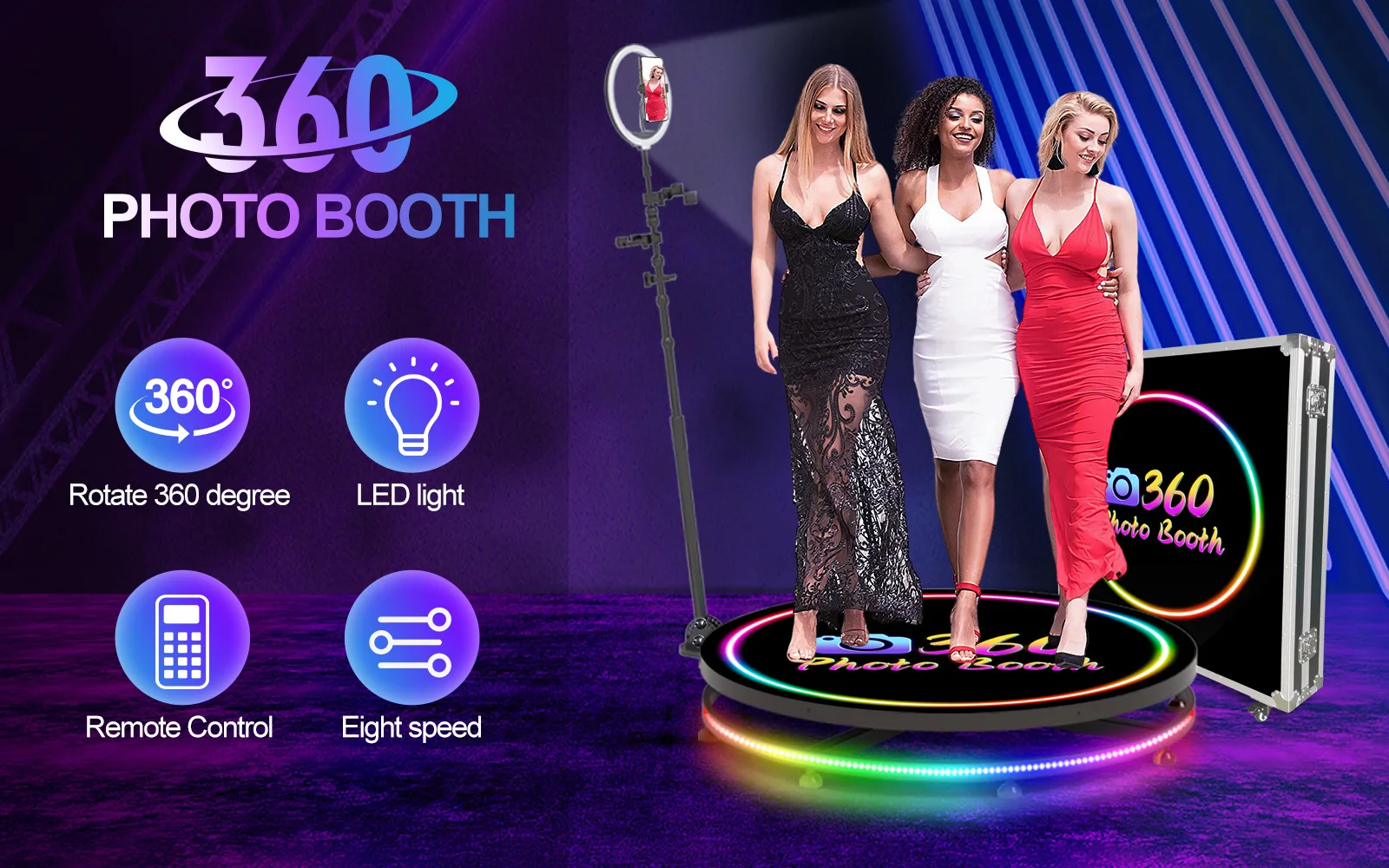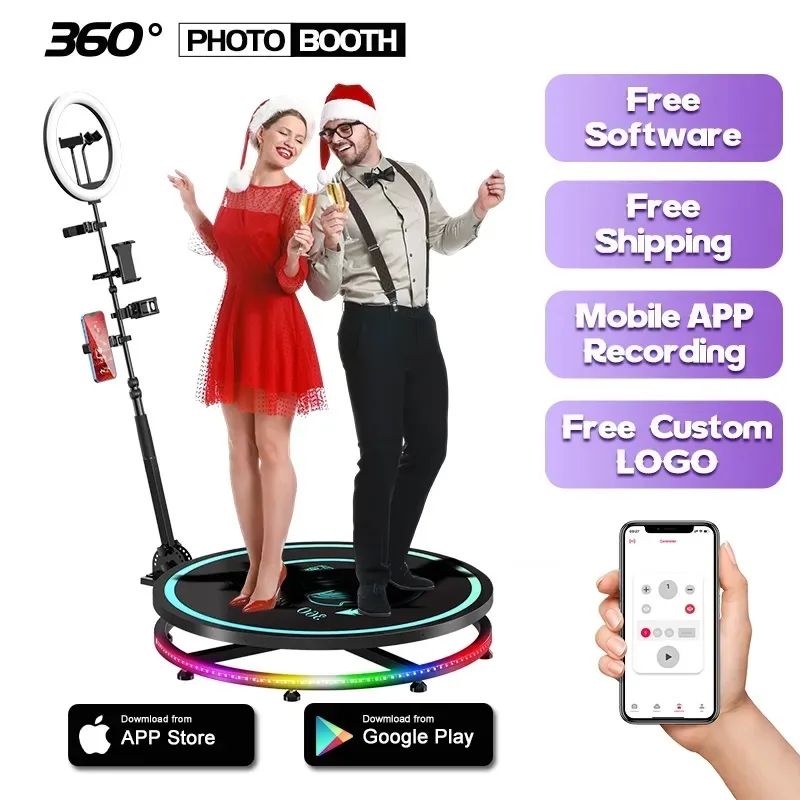 Products description:
* 【360 Photo Booth with Ring Light】
Revolve selfie ring light has 3 colors lighting mode,each lighting mode have 10 adjustable brightness to choose and 360° Spin help You-tubers/Tik-Tok Streamers/Selfie Lovers/artists/Social Platforms create incredible images, videos and live streaming videos.Hundreds of LED lights are evenly distributed, very bright, but the light is soft and will not hurt the eyes.. Need a power-bank (not included in the package) to power the ring light.
* 【360 Photo Booth with Software for Parties 】
Our software-CHACKTOK,there are a variety of shooting methods, such as Boomerang/Photo/Normal Video/Slow-motion Video/GIF,you can also add your own music.People stand on a 360 spin photo booth machine carnival,the 360 camera booth can record your wonderful moments in all directions.(Perfect for making your DIY videos).You can share to your friends or social platforms.
* 【APP/Handheld Remote Control】
Two ways to control the machine,through the Button/APP (ChackTok), you can wirelessly control the speed of the 360 camera booth machine rotation, spin clockwise or counterclockwise.APP can also set the control time.The length and angle of the selfie stick can be adjusted as your needed. The selfie 360 rotating photo booth are also equipped with multicolor led strip light , sticker and other props to increase the sense of atmosphere.
* 【Strong 360 Photo Booth Machine】
The diameter 26.8″ load-bearing is about 330lb for 1-2 people to stand on,The diameter 31.5″ load-bearing is about 440lb for 2-3 people,the diameter 39.4″ is about 880lb for 3-5 people,and the diameter 45.3″ is about 1300lb for 5-7 people.You can choose the flight case comes with 4 rollers(Install it yourself) or choose the honeycomb case comes with a trolley inside which is convenient for push-pull.
* 【Quality Assurance and Warranty】
Please verify the genuine seller "VIVITOK Tech", we do not provide after-sales service for others.No matter how long the product is missing parts or has any other problems,Please contact VIVITOK Tech through official channels in time(The best service you will get,Find us in Customer Q&A),we will make a solution for you within 12 hours.Our product page has installation and usage videos.The product packaging will also come with manual.
* 【Support Multi-Device】
Multiple Selfie holders support multiple devices such as iPad,Gopro, camera, smart phone…What's more,When installing the camera on the selfie pole of the first part,not only can you shoot people, you can also shoot objects in 360 degrees.Great help for personal artistic and commercial gain.
* 【Sturdiness & Easy to Assemble】
VIVITOK Tech 360 photo booth machine balanced and stable during working, no extra noise and can be used for a long time.No doubt, we are a very strict company. The 360 machine has been strictly inspected from production, packaging to transportation.If the machine you received is defective, please report it to us immediately, we will collect the error and improve it in time.You'll also have the chance to get a new machine for free.
Pacakge details:
* Size 26.8″,31.5″, 39.4″, 45.3″ means that the packaging is honeycomb box (not including flight case).Interior includes
trolley.Size 26.8″+Flight Case,31.5″+Flight Case, 39.4″+Flight Case, 45.3″+Flight Case means that the package is a flight
case.Self-contained rollers do not include trolley.The flight cases may be different batches(Black/Silver), but all are good.
* We have made relevant upgrades, both packaging can protect the product well, no need to worry.Just choose what you need.We wrap another layer of buffer foam in the outsourcing box to protect the transportation of the product.
Packaging Size:
* 26.8″ about 30x30x11in , Weight 81lb , load-bearing about 330lb for 1-2 people
* 31.5″ about 34x34x11in ,Weight 106lb,load-bearing about 440lb for 2-3 people
* 39.4″ about 42x42x11in ,Weight 132lb,load-bearing about 880lb for 3-5 people
* 45.3″ about 47x47x11in ,Weight 149lb,load-bearing about 1300lb for 5-7 people
* Flight Case 26.8″ about 30x30x11in ,Weight 101lb,load-bearing about 330lb for 1-2 people
* Flight Case 31.5″ about 34x34x11in , Weight 132lb,load-bearing about 440lb for 2-3 people
* Flight Case 39.4″ about 42x42x11in ,Weight 148lb,load-bearing about 880lb for 3-5 people
* Flight Case 45.3″ about 49x49x11in ,Weight 185lb,load-bearing about 1300lb for 5-7 people
* Glass+Flight Case 39.4″ about 42x42x11in ,Weight 210lb,load-bearing about 1300lb for 3-5 people