APEXEL 200X Macro Lens for Phone HD Camera Lentes Portable Digital Phone Microscope for Iphone12 Huawei Smartphones Accessories

【COMPETIBLE FOR MOST SMARTPHONE】
This lens is compatible with IOS&Android. You can clip it onto the phone camera directly. It's okay for almost 98% of smartphones, such as the iPhone, Samsung, Google, Huawei, Xiaomi, and so on.
Note:
The microscope needs to cooperate with the mobile phone magnification function to achieve 200 times magnification.
The magnification of the microscope depends on the screen size of the mobile phone, the magnification of the mobile phone and the aspect ratio of the mobile phone.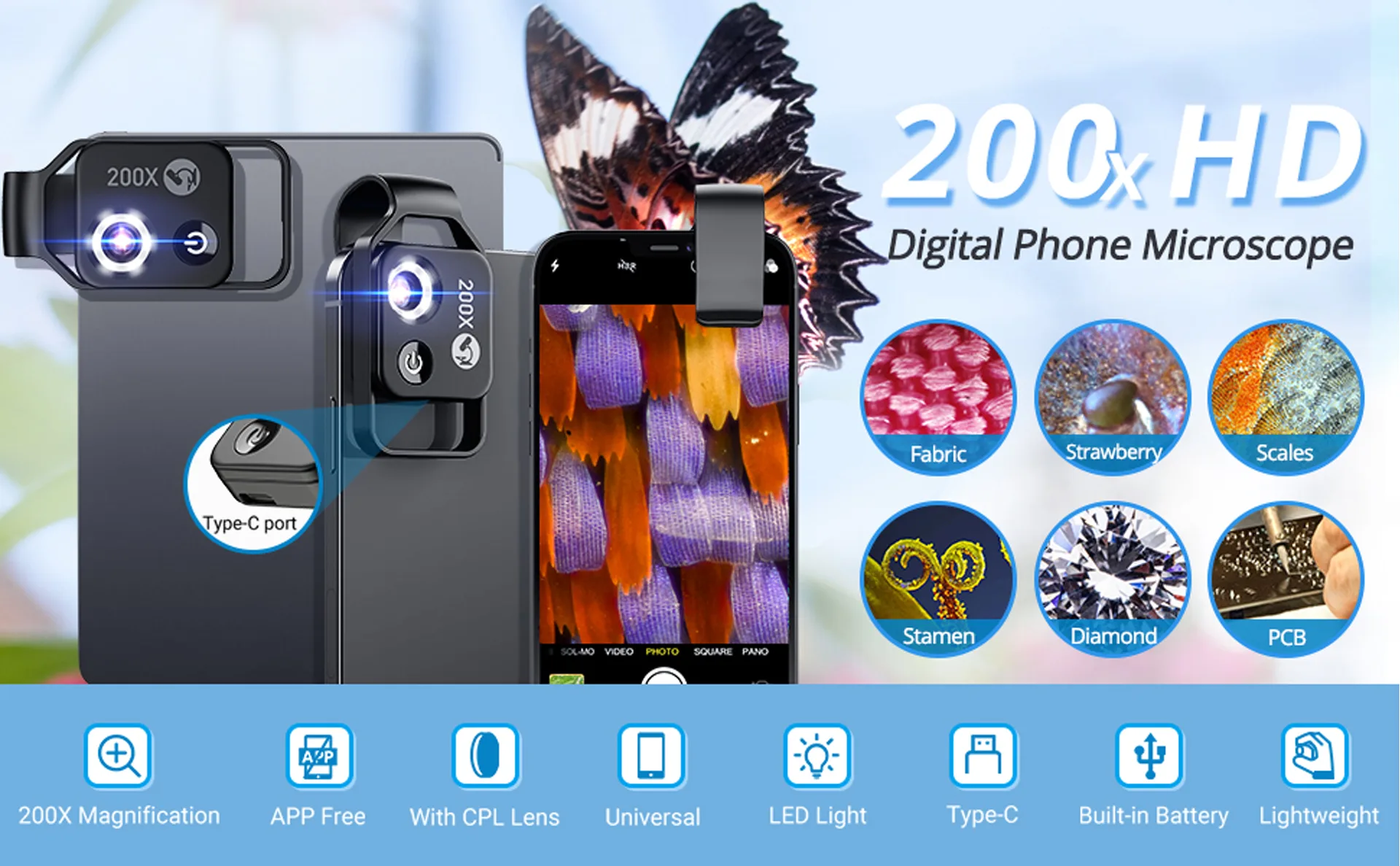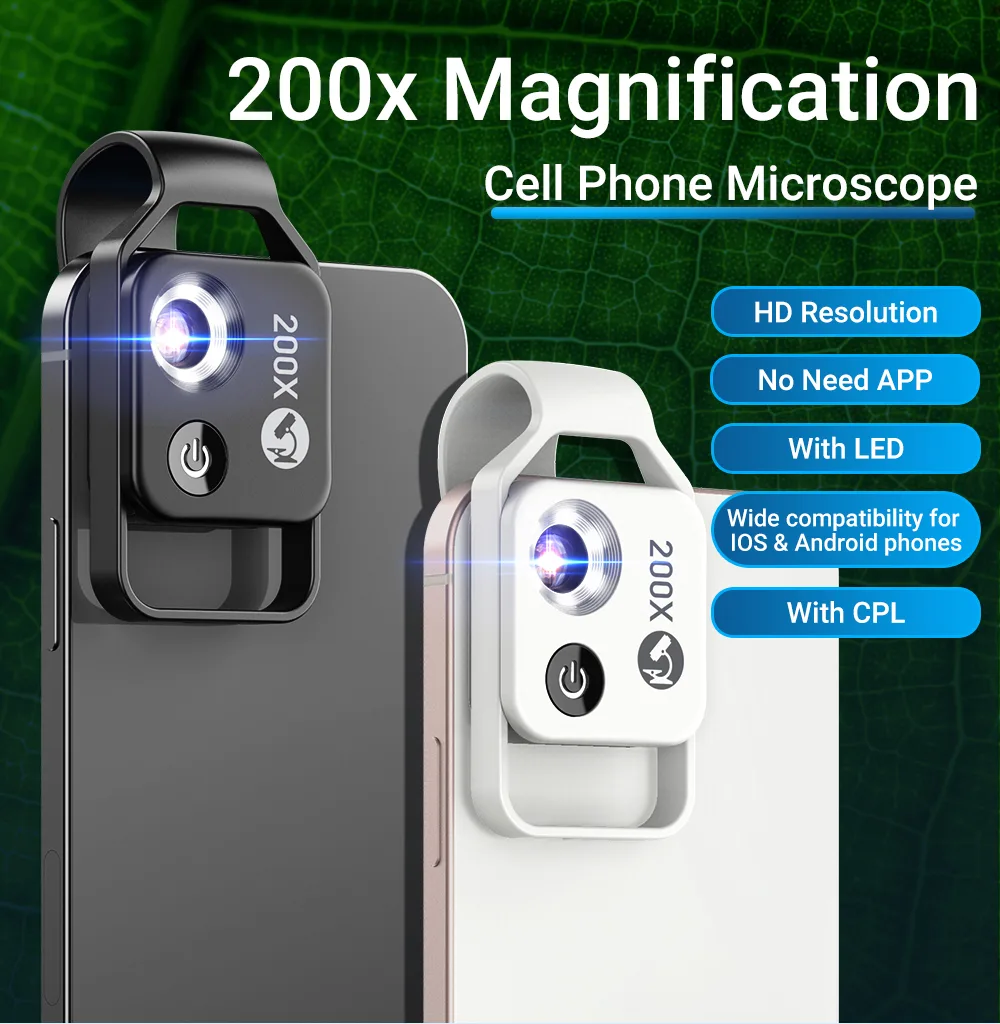 【2 Level LED Light Adjustment:】
With LED lighting , uniform lighting ,clear imaging and more three-dimensional effect . 2 levels of-brightness adjustment to meet the shooting needs of different objects
Note: one level lens, It means that the light has only one gear brightness
【LED LIGHT AND NO NEED APP】
This smartphone microscope includes 6pcs led inside and is not afraid of darkness, it can provide the illumination clear and more stereoscopic image to you. In addition, you don't need to download any app to use it, the product includes the universal clip for you easy to install and detachable, you can take the photo when you open your phone camera directly.
【Built-in Lithium Battery 】
USB direct plug-in charging
【LIGHTWEIGHT AND COMPACT SIZE】
Apexel 200X cell phone microscope size is 2.16*0.9*0.5 inch (55*23*12 mm) with 0.39oz(11g)weight only. Take it everywhere you go and record the image and video. Of course, instant ability to share the image and video with colleagues in other places.
【200X MAGNIFICATION】
200X Microscope makes you take amazing enlarged high-resolution photos and videos by simply attaching our microscope to your smartphone's native camera and enjoy the world that cannot be observed with our naked eyes.
【Record and Share at Any Time】
Moments that can be shared in time Let the micro world enter your social platform
【EASY TO USE】
Adjust the Microscope clip onto your phone camera, keep the microscope lens aligned with your phone's main camera. And sliding the lens cover to the bottom to turn on the LED, then ready to shoot.
【Specialized for Mobile Phones 】
Compatible with the all mainstream models on the market Wide compatiblity for los Android phones
Support OEM customization
Product Details Display

Package OF lens set includes:
1* MS002 microscope
1* data cable
1* wipe
1* manual
1* packaging
FAQ
Q: Is this lens compatible with iPhone 13?
A: I think yes because it works with my iphone 12 Pro Max. When using on iPhone13 pro and pro max, you can turn off the macro function of the phone and you can use it normally. The lens will not be switched automatically after it is turned off.
Q: Is it really possible to zoom in up to 200 times?
A: According to the digital zoom function of the smart phone, you can reach 200 times when you install this microscope lens. The magnification of the microscope depends on the screen size of the mobile phone, the magnification of the mobile phone and the aspect ratio of the mobile phone. My HUAWEI P50 can do it. Even if some mobile phones cannot make the microscope display a maximum magnification of 200 times, they still have the ability to magnify enough to observe objects invisible to the naked eye, just like my iPhone 6. see less
Q: Is this compatible with iphone12 pro max?
A: For me it worked on iPhone 12 Pro max with wallet case on using the bottom-left lens. As reference; the white Led light is at the top right corner of the lenses set. I have 15.2 ios but have no option to turn off macro function. Still works. It's hard to keep hands steady to take pictures but once you manage to do so, you get great details. Also you can phone zoom function for higher magnification. see less
Q: How wide can the clip open? I have a case around my phone.
A: It's pretty wide it actually works better with the case on. I have an Otterbox on my IPhone 11 and it fits fine.
Q: How to enable Macro toggle on iPhone 13 Pro camera:
A:Running iOS 15.2 on iPhone 13 Pro/Pro Max, open the Settings app
Swipe down and choose Camera
Swipe to the bottom, tap the toggle next to Macro Control
Now you'll see a flower icon (right in the Camera app) you can quickly toggle off/on after Macro mode kicks in (bring the camera close to something to get it to show up)
Another way:
If you'd like to preserve whatever Macro toggle setting you chose (auto on or off), head to Settings > Camera > Preserve Settings > Macro Control.
With this on, your Macro on or off preference will be preserved as the default when opening the Camera app
Note: With Macro Control fully toggled off, iPhone 13 Pro will auto switch to Macro mode when you get close to subjects and will not show the manual toggle in the Camera app.