Osmo Mobile SE
Osmo Mobile SE × 1
DJI OM Magnetic Phone Clamp 3 × 1
Grip Tripod × 1
Power Cable × 1
Storage Pouch × 1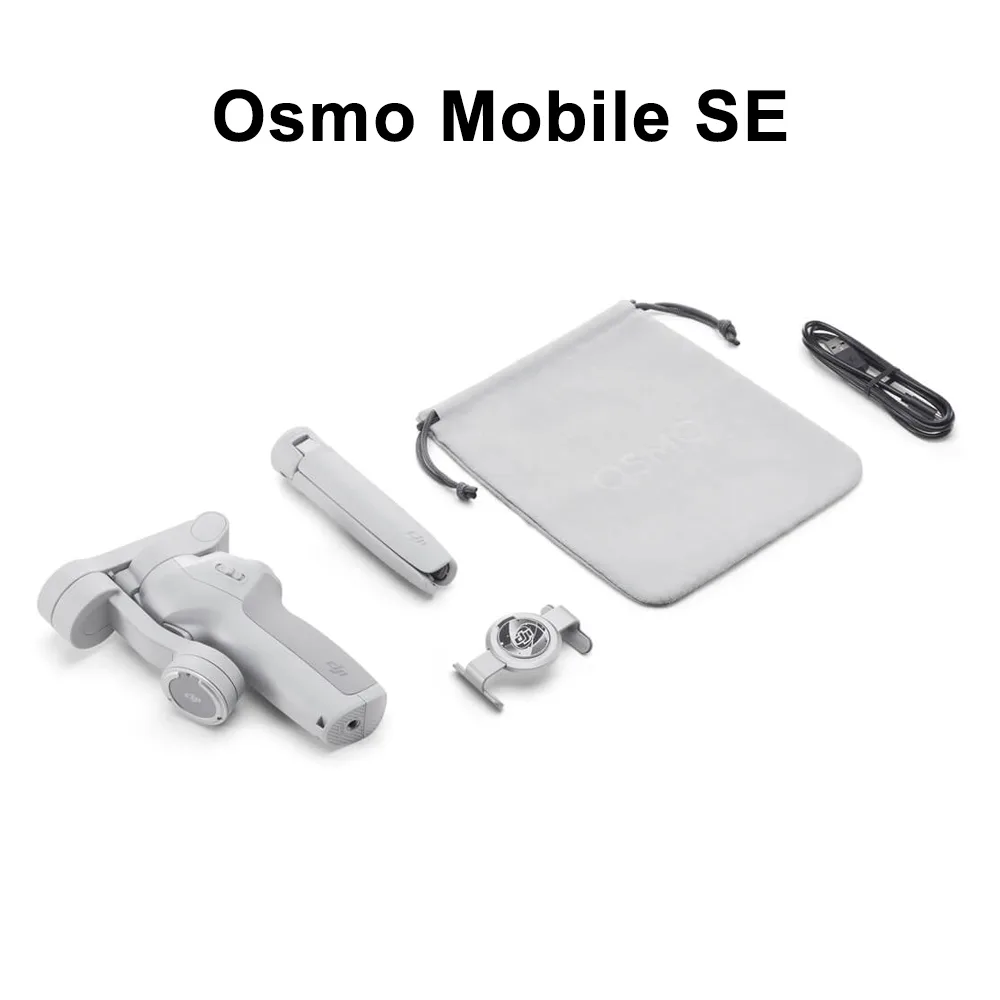 OM SE Feature :
3-Axis Stabilization
Magnetic Design
Portable and Foldable
ActiveTrack 5.0
Easy Tutorials and One-Tap Editing
Quick Roll
Compared with DJI OM 4 SE, what upgrades does Osmo Mobile SE have?
1. Osmo Mobile SE adds a status panel, which is convenient for you to check the current gimbal mode. It also supports switching between gimbal modes via the M button.
2. Osmo Mobile SE has an upgraded joystick to provide a better operating experience.
3. Osmo Mobile SE has an upgraded Magnetic Phone Clamp for an improved clamping effect.
4. Osmo Mobile SE improves ActiveTrack.
5. Osmo Mobile SE adds ShotGuides.
What's great about LightCut? I'm a beginner, is it easier to create videos when using Osmo Mobile SE with the LightCut app?
1. LightCut is a video editing app officially recommended by DJI. It provides intuitive shooting and editing functions that fit the needs of DJI users.
2. LightCut supports shooting templates in a range of scenarios: outings, parks, camping, seaside, city, sports, and more. It provides extensive guidance for you to create impressive videos effortlessly. When connecting to Osmo Mobile devices, it also supports ActiveTrack, stabilization, and Glamour Effects.
3. After shooting, use the One-Tap Edit function and select the original clips you have taken. One-Tap Edit automatically recommends templates according to your clips, covering nature, city, home, store visiting, food, pets, festivals, and many other scenarios, and intelligently selects great clips to generate videos without the need for manual editing.
4. You can also switch to many other templates, change the clips, or select music, filters, text, and stickers. Effortless editing allows you to share your work right away.
What phones are supported by Osmo Mobile SE?
Osmo Mobile SE is compatible with most smartphones on the market. It is recommended to use smartphones with a width of 67-84 mm, thickness of 6.9-10 mm, and weight of 170-290 g.
Please visit the official DJI website for the full compatibility list.
What is the magnetic force of Osmo Mobile SE? Is it high enough to securely fix my phone to the gimbal?
The magnetic force of Osmo Mobile SE is 45 Newtons (approximately the force needed to hold two 2-liter soda bottles), more than enough strength to keep smartphones attached securely.
Can I keep my phone case on my device when attaching with the Magnetic Phone Clamp?
Yes.
How is ActiveTrack 5.0 different from ActiveTrack 4.0?
ActiveTrack 5.0 provides more stable tracking at longer distances. It also supports the front camera tracking subjects from the side or when turning around.
Can ActiveTrack 5.0 follow pets and children? How reliable is it?
Yes. However, the precision may vary by smartphone, and it performs better when tracking a single child (0 to 6 years old) or pet.
What timelapse modes does Osmo Mobile SE have? In what scenarios should I use them?
1. Timelapse is suitable for mounting the gimbal on a tripod or base to record the passing of time in a fixed scene.
2. Motionlapse allows users to record a moving timelapse video from different angles with preset camera positions.
3. Hyperlapse allows users to record everything passing by as they hold the gimbal in hand and walk. ActiveTrack 5.0 provides more options for flexible shooting.
Smooth 3-Axis Stabilization
With a new generation of control algorithm, Osmo Mobile SE can perform real-time compensation to effectively eliminate camera shake.
Quick-Release Magnetic Design
The gimbal and the Magnetic Phone Clamp can be separated, which allows for quick attachment and detachment, and more convenient smartphone use.
Foldable and More Portable
The foldable gimbal is easier to store and carry along on any adventure. If inspiration strikes, just take it out and start shooting immediately.
Track Smart: ActiveTrack 5.0
Tracking is effortless and reliable, even if the subject turns while shooting or becomes briefly blocked and re-enters the frame.