2200nit Daylight Viewable
The 7″ 1920 x 1200 monitor not only has the resolution and pixel density to make every shot look amazing, the high bright 2200nit screen at almost 4 times the brightness of conventional field monitors lets you shoot outdoors without reflections washing out your image. This makes it easy to see outdoors without a hood, making it easy for outdoor shooting in bright daylight!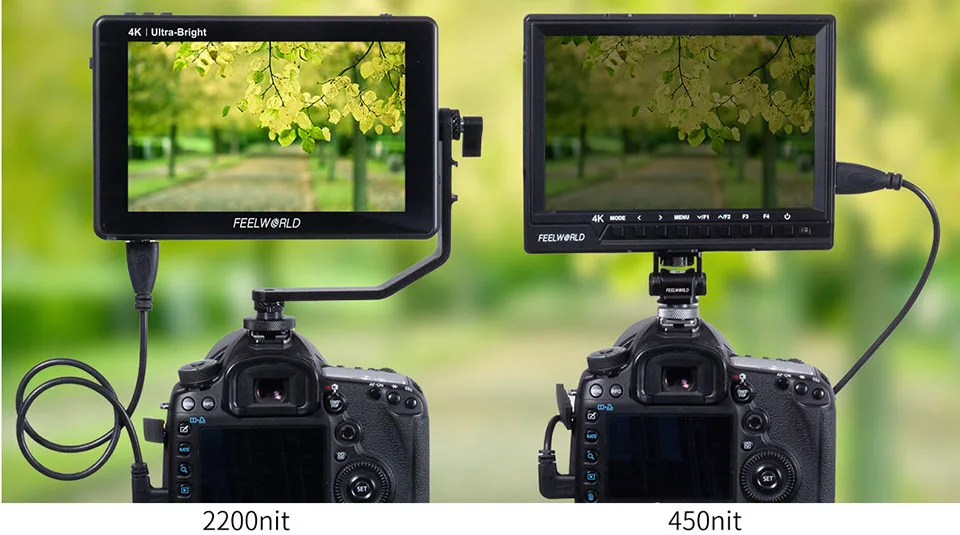 Load Custom 3D LUTs to Recreate Film Looks
Some cameras can output logarithmic colorspace to preserve the dynamic range, which is great for later post production, however when these files are viewed on a monitor they can look flat and washed out. 3D LUTs solve this problem because they allow you to apply a "look" to the monitor so you get an idea of how the finished images will look like when editing. You could use built-in LOG to Rec.709 video or upload .cube files. LUT7 allows you to load internally up to custom LUTs, looks or profiles at any time via the SD Card Slot and instantly select between them, maintaining creative intent, always.

Light Sensor for Auto Dimming
And LUT7 has an ambient light sensor that detects ambient light levels and automatically adjusts the screen brightness. It ensures that the screen is readable in different environments and always protects your eye. Increasing the screen brightness compensates for bright sunlight when used outdoors, while a dimmer screen is more comfortable on the eyes when viewing in the dark.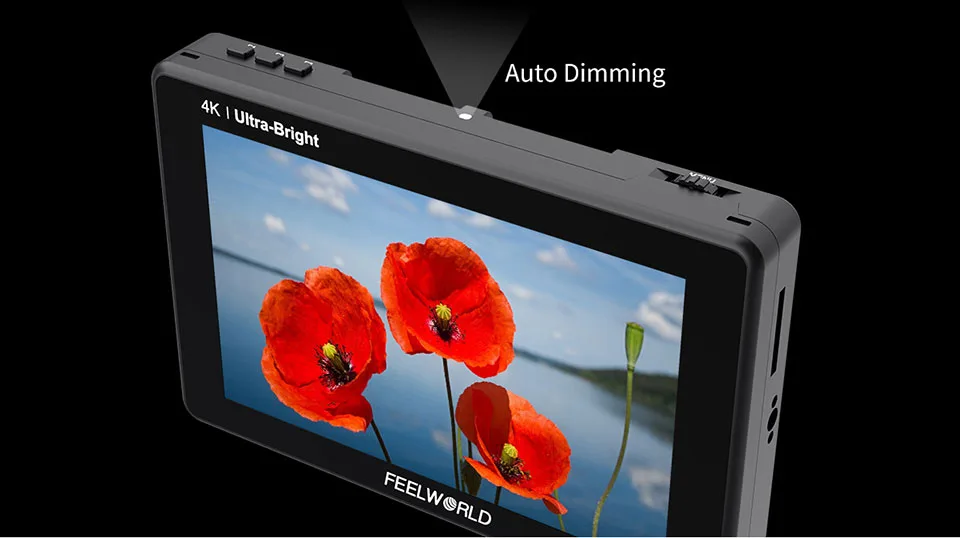 Large Monitor with Easy Touch Controls
The innovative touchscreen LCD user interface provides incredible control. You can uses simple tap and swipe gestures for the important monitoring functions. Scopes can be enabled via the touch screen as well as focus and exposure assist. There's also an extensive range of settings all controlled from the large LCD. Plus you can load 3D LUTs!
More Resolution, Less Reflection
The FEELWORLD LUT7 enables clear and precise field monitoring and image analysis during daytime shoots. It displays your stills and monitoring content at superior color fidelity and 1920 x 1200 maximum resolution on a 7-inch display. The panel is made of optically bonded glass with an anti-reflective coating, which allows comfortable daytime field monitoring. But what really sets it apart is its light-emitting diode (LED) backlighting, which outputs a brightness of 2200 nits and displays a 1200:1 contrast ratio and sRGB / Rec.709 Color Gamut, resulting in exceptional screen clarity even in intense lighting conditions. With the monitor displaying your content at 323 pixels per inch (PPI), you can shoot in broad daylight with confidence and refine your content on the spot. The wide 160º viewing angle makes it easy for multiple members of the crew to watch it at the same time.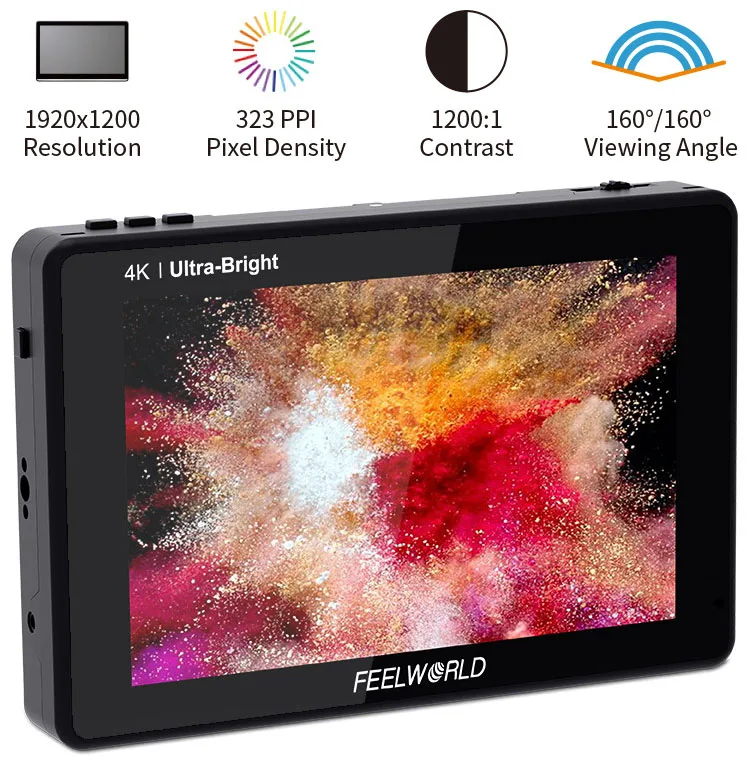 Accurate waveform monitoring
When you need to analyze image quality more accurately than simply looking at the picture then use LUT7's built in waveform monitoring! Choose from waveform (RGB Parade, YUV Parade, Y Parade), vectorscope, histogram and audio phase and level displays, and get broadcast accurate waveform monitoring that shows everything you need to know technically about your video and audio signals. The functions can be opened separately, and also support one key to open all scope mode. LUT7 is perfect for live production monitoring and removes the need for separate expensive scopes!
Combines Reliability with Useability
The LUT7 equips filmmakers with the benefits of a large on-camera display without making the camera set up feel cumbersome. FEELWORLD LUT7 is packed with high end monitoring features in a small, lightweight package that can be connected to virtually any camera. The front features a large high resolution, daylight viewable LCD touchscreen, there are video connections on the bottom and SD card slot on the side, and space for two NP-F batteries on the back. The outer frame features standard ¼" mount points on the bottom, left and right for attaching it to cameras and rigs. This design detail makes the LUT7 easy to attach to a camera and easy to share with a team member or client on set.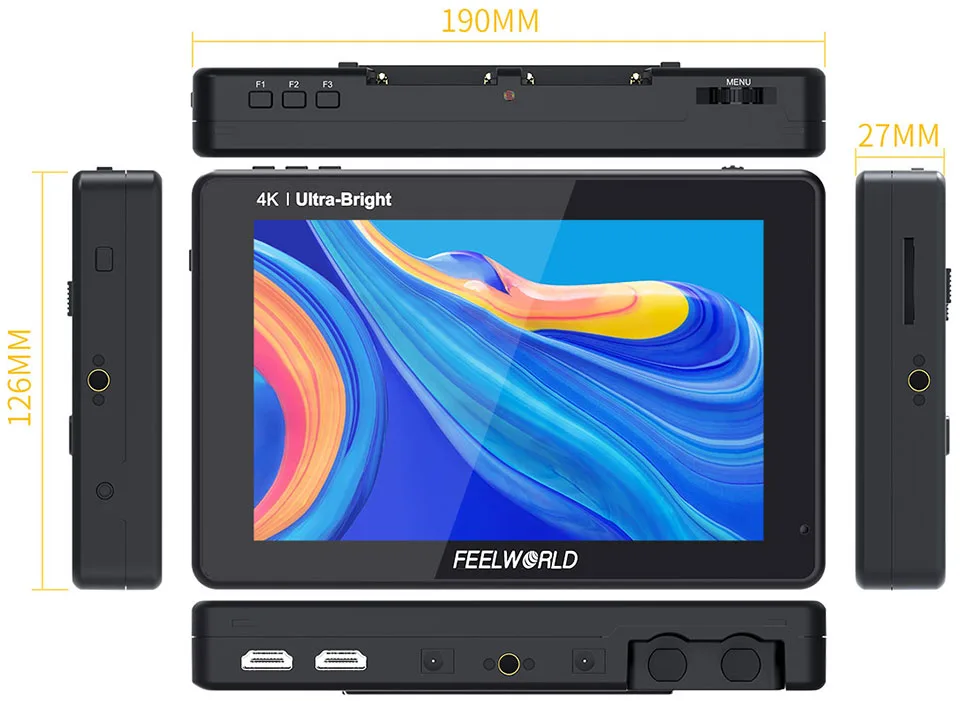 True Color, Professional Color Calibration
Use Rec.709 color standard
FEELWORLD uses the professional Rec.709 HD color standard, and uses the color calibration technology, with the professional instrument calibration at the factory, it can achieve monitor calibration efficiently and get accurate color reproduction easily, do not distort the color, show the real image when you shooting video.
Accurate Color Reproduction
FEELWORLD monitor support ITU standards and HD video Rec.709 standard consistent color space, advanced image processing technology, so that the image clearly presented, the color is extremely natural, to ensure accurate color reproduction, to reproduce the physical nature of shooting, enabling users to accurately evaluate the quality of various input video signals.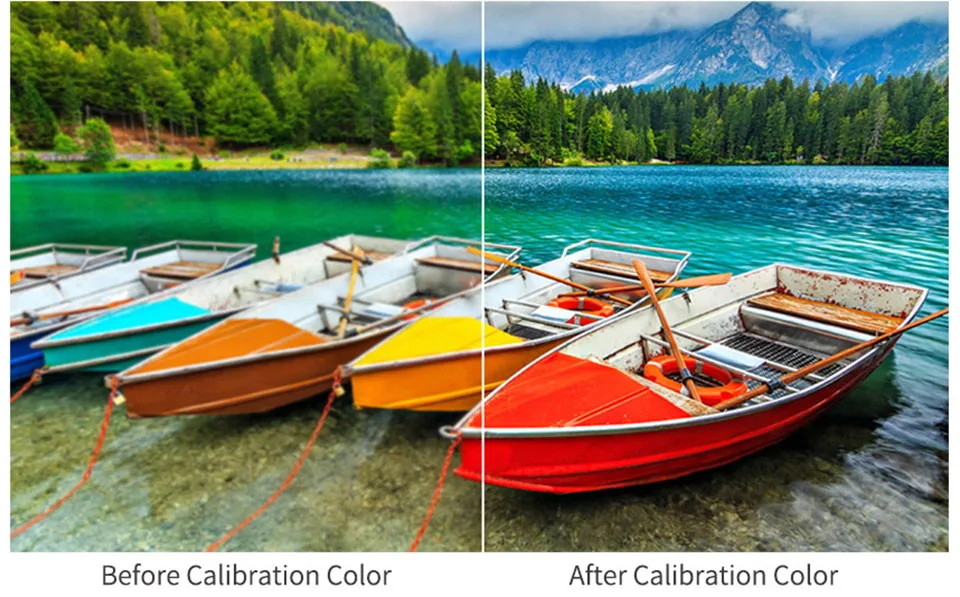 Connect to Consumer or DSLR Camera
With 4K HDMI inputs, you can connect it to consumer camera or DSLR camera. You also get loop thru outputs, so you can display live video or expand display on external screens or projectors with embedded audio. You can also monitor audio using the 3.5mm stereo headphone jack. For power, there's a 12V DC input and two NP-F battery slots.
HDMI Input/ Output Support Format
480i/576i/480p/576p
1080i (60/59.94/50)
720p (60/59.94/50/30/29.97/25/24/23.98)
1080p (60/59.94/50/30/29.97/25/24/23.98)
4K UHD 3840x2160p (30/29.97/25/24/23.98Hz), 4096x2160p (24Hz)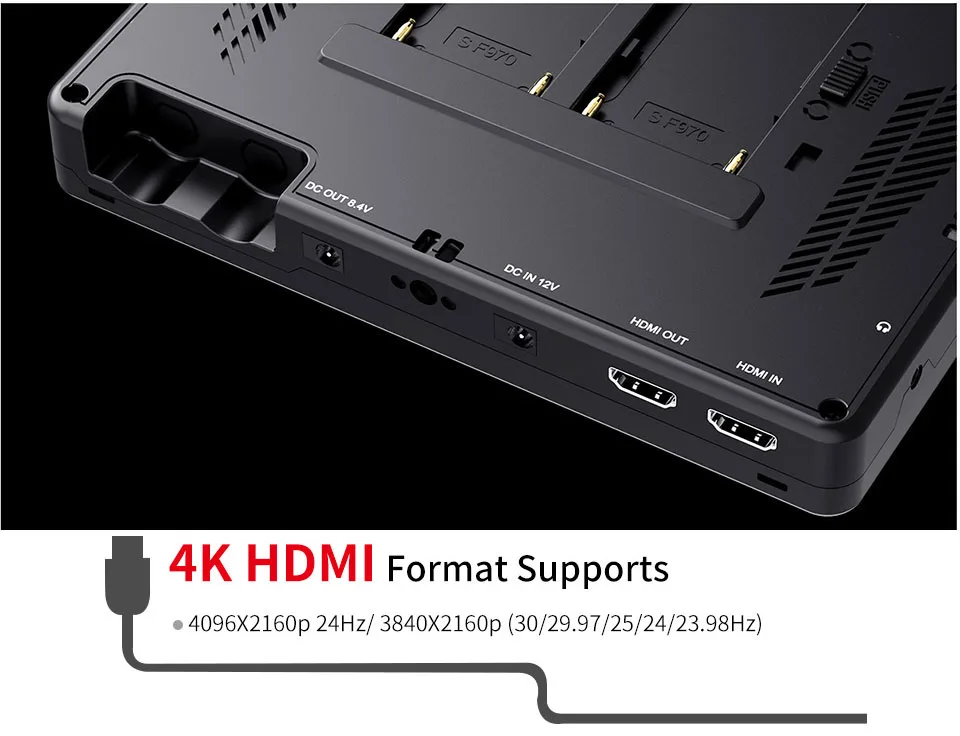 4K HDMI Loop-out
The LUT7 has 4K HDMI in and loop-out, allowing it to not only display live signals, but also send them out to other monitors simultaneously. It's the ability to display live picture on multiple displays at once while still maintaining the original video quality.
Connect to Wireless Transmitter
Transmission to film crew director monitoring at the same time. Without the cable more flexible to transition between scenes effortlessly for outdoor shooting.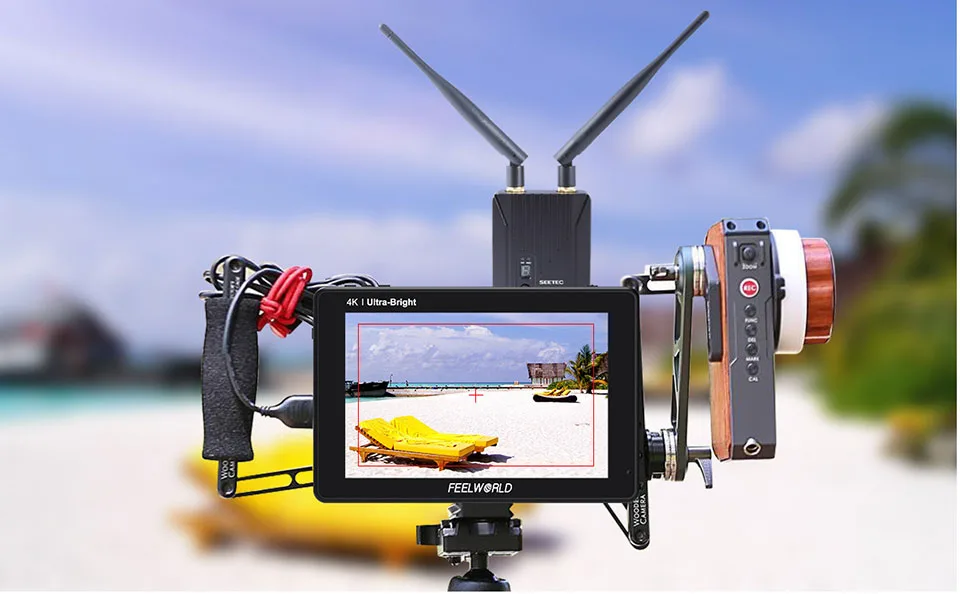 Connect to Director Monitor
Display live picture on multiple displays simultaneously.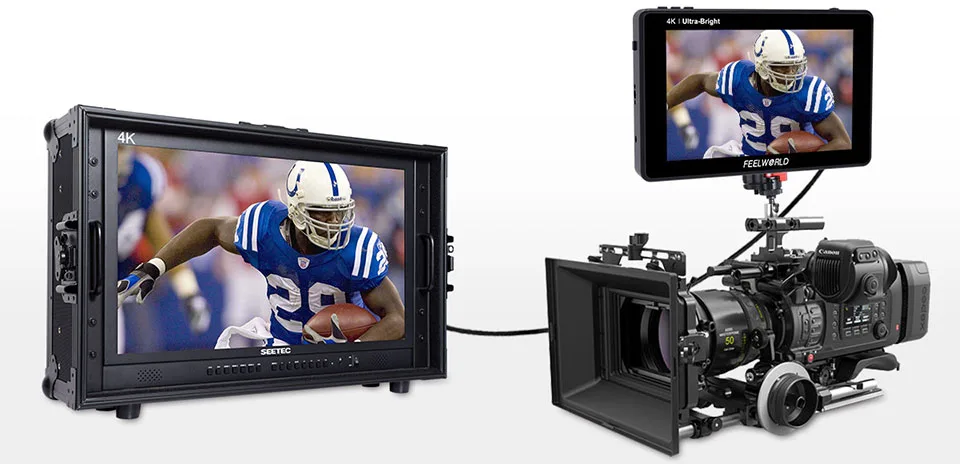 Simple OS, Sophisticated Shots
Our flexible OS is packed with an extensive suite of scopes, all 1-touch away and simple to use. The Video OS includes tools for focus, framing & exposure (waveform, RGB parade, vectorscope, RGB histogram, histogram, audio meter, focus peaking, zoom, zebra, false color, frame guides, safe area, etc.) along with a flexible 3D LUT implementation (use built-in LOG to Rec.709 video or upload .cube files) and options for anamorphic de-squeeze monitoring.

User LUT Cube Import
Provides S-log2/3, V-log, Log-C etc, to convert log mode to REC709 for all major cameras. The LUT loading function makes the color calibration work of the previous shooting easier and more intuitive, optimizes the workflow and improves work efficiency. User creative 3D LUT cube or calibration 3D LUT cube can be uploaded to monitor by SD card.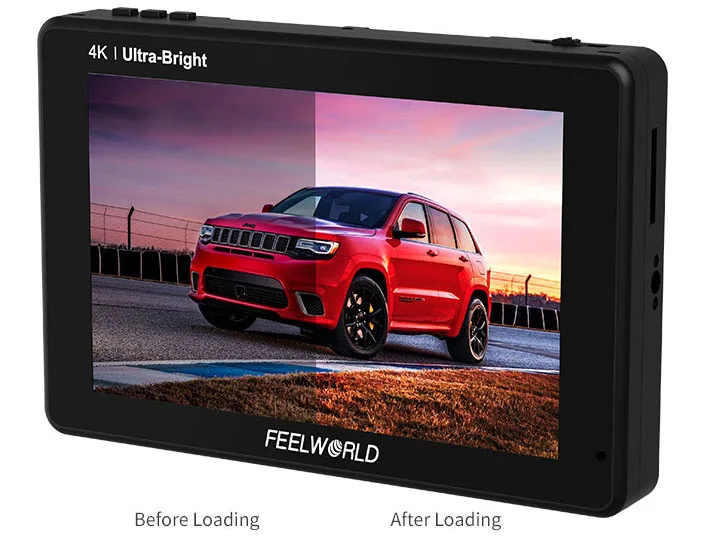 Video Analysis Assistant Pattern
Waveform / Vector scope / Histogram
Waveform
This essential feature assists with the calibration of professional video cameras. It shows the overall brightness of the image assisting the video professional in correcting exposure. The waveform feature also checks the evenness of the lighting when lighting a chromakey or background.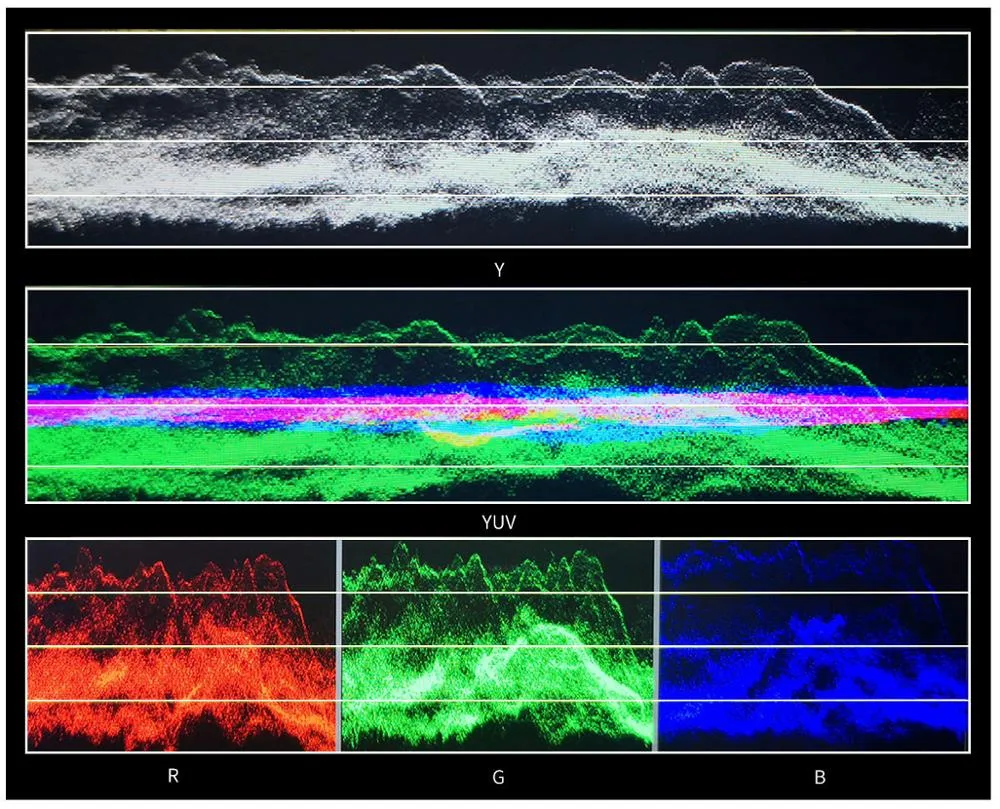 Vectorscope
Vector scope shows how saturated the image is and where the pixels in the image land on the color spectrum. It can also be displayed in various sizes & positions, that allows users to monitor color gamut range in real time.
Brightness Histogram
The Brightness Histogram is a quantitative tool to check the picture brightness.The feature shows the distribution of brightness in an image as graph of brightness along the horizontal axis (Left:Dark, Right:Bright)and a stack of the number of pixels at each level of brightness along the vertical axis.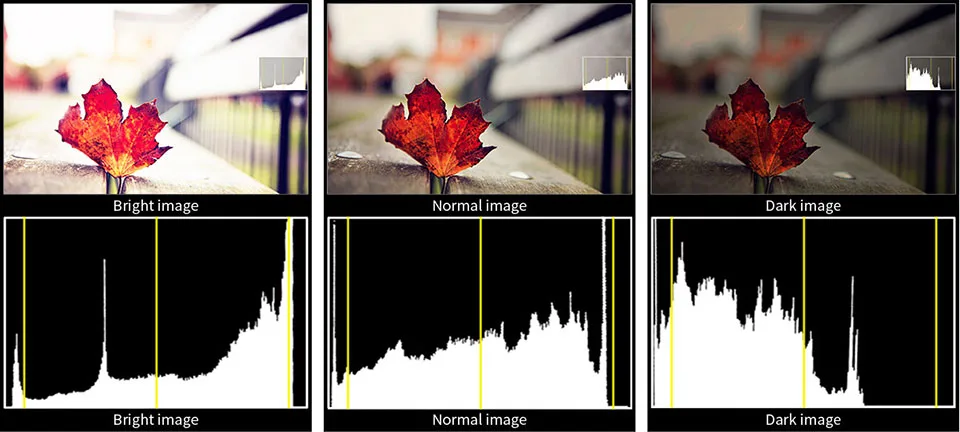 RGB Histogram
RGB histogram is a graphical display of the distribution of tones, shows the Red, Green and Blue channels histograms. Suitable for HD-SDI and HDMI signal monitoring.

All Scopes Mode
This mode shrinks your video image to approximately the size of a 7″ display and tiles your choice of waveform, vectorscope, histogram, and embedded audio on the border of your video.

Peaking Focus Assist
The Peaking Filter is used to aid the camera operator in obtaining the sharpest possible picture. When activated, the internal processor will display a colored highlight on the screen where sharp edges appear. You can switch the peaking color between yellow, red, green, blue, white according to different tone of the subject. The focus level can be adjusted from 1 to 10 levels.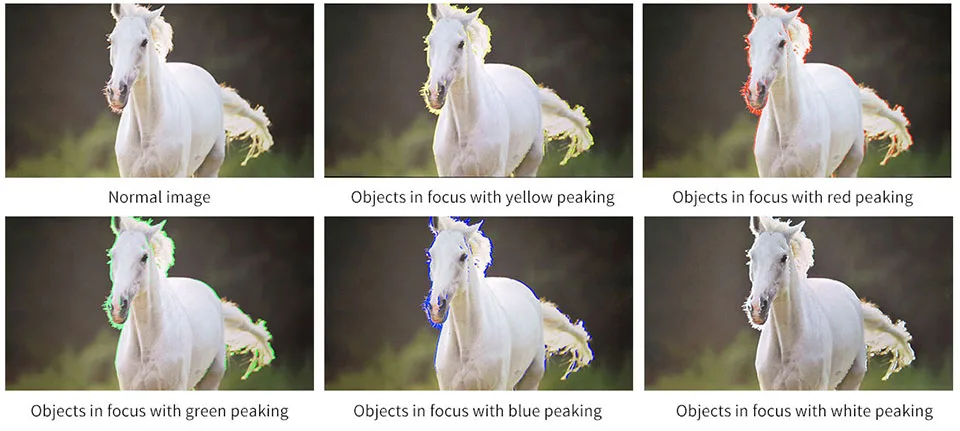 False Color
The False Color filter is used to aid in the setting of camera exposure. As the camera Iris is adjusted, elements of the image will change color based on the luminance or brightness values. This enables proper exposure to be achieved without the use of costly, complicated external test equipment.

Support Touch Screen and Button Control Menu
You can also get a quick glance at your menu settings and features with an easy tap on the screen. It also supports physical buttons control. Tap/Rotate the wheel button for quick selection and function settings. Tap the power switch to turn off the touch function, designed to prevent misuse.
Touch Screen Operating Instruction
1. When the monitor and touch are both on, continuously click the screen twice to enter the main menu.
2. Swipe up from the bottom of the screen to open the shortcut menu and click on the corresponding menu to open or set the corresponding function. Double-click the shortcut menu function and select the function setting with the "<" or ">" key.
3. On the left side of the screen (1/2 split screen), you can directly adjust the brightness of the screen backlight; on the right side of the screen (1/2 split screen), you can directly adjust the volume.
4. Click any space beside menu to exit the menu.

Power Your DSLR or Mirrorless Camera
The FEELWORLD LUT7 is an ideal camera-top monitor for DSLR and mirrorless camera shooters. Because the LUT7 provides auxiliary power out; allowing shooters to power their cameras. With a battery adapter cable (Optional), the LUT7 extends camera run-time, while providing a more usable display.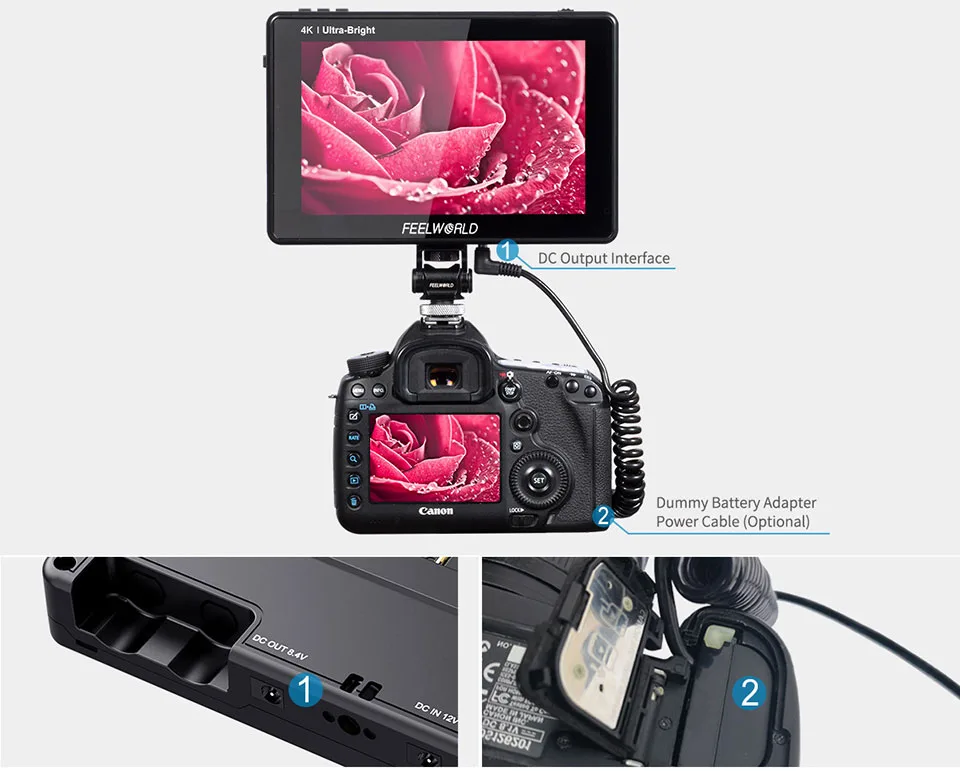 Attach to Cameras, Equipment Carts or Hang It Anywhere
The standard sized mounting points make it easy to mount and are compatible with third party rigging equipment. There are 3 mounting points located on the bottom, left and right. Using the bottom 1⁄4 inch hole, you can securely attach it to the top of your camera as the ultimate viewfinder! The 1⁄4-inch holes on the left and right sides can be mounted on other equipment with magic arm, bracket, etc., for the entire crew to monitor the screen.
Innovative Power Supply Design
The new design also features upgraded batteries and supports two standard Sony L Series batteries. You get 2 rear battery slots for mounting Sony L Series batteries, so you have enough power for the brighter screens. Plus with 2 battery slots, you can change batteries without interrupting monitoring!A 12v universal power supply can be used on  studio or on location use.
● Compatible Sony Battery: F970 F960 F950 F930 F770 F750 F730 F570 F550 F530 QM91D QM91 QM90D QM90 QM71D QM71 QM70D QM70 QM51D QM51 FM71 FM70 series.
(Note: The battery is not included.)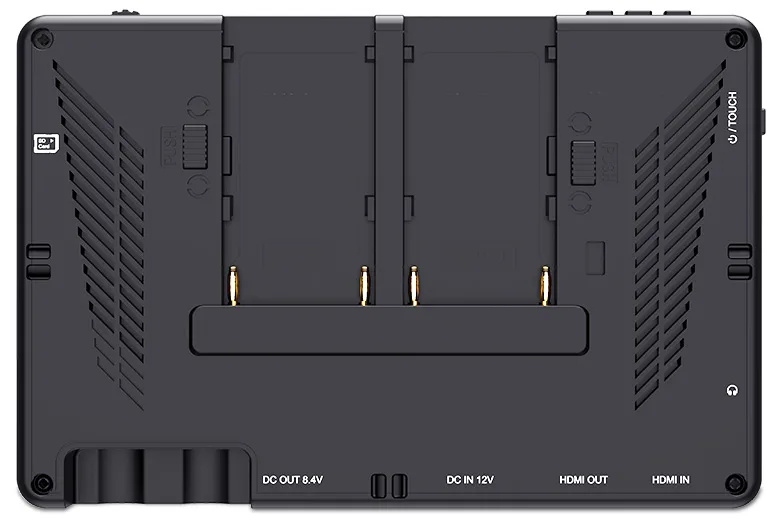 Attach to Cameras, Equipment Carts or Hang It Anywhere
The standard sized mounting points make it easy to mount and are compatible with third party rigging equipment. There are 3 mounting points located on the bottom, left and right. Using the bottom 1⁄4 inch hole, you can securely attach it to the top of your camera as the ultimate viewfinder! The 1⁄4-inch holes on the left and right sides can be mounted on other equipment with magic arm, bracket, etc., for the entire crew to monitor the screen.

The Product Warranty of our products is ONE year.
We will check the goods quality before shipment. If there are some unexpected problems happen, we hope to solve the problems with buyer through friendly ways:
1. If it is quality problem, buyer must provide photos or video or other evidences to seller for evaluation and  identification.
2. Man-made damaged, buyers should take full responsibility.
3. Product quality processing program:
The buyer return the goods to us and responsible for returned shipping costs. After we receive the goods, we will send a new product to buyer and pay for the resend shipping cost.
About Our Factory
Zhangzhou Seetec Optoelectronics Technology Co., Ltd is a high technology enterprise,  focusing on the research & application of LCD display technology, design, manufacture, marketing, and delivers of LCD monitor products. We have two Brand, FEELWORLD and SEETEC. FEELWORLD Focuses on Electronic View Finder, 3G-SDI On-Camera Monitors, HDMI On-Camera Monitors, Rack Mount Monitor, Jib Crane Monitor, Wireless FPV Monitor, Open-Frame Industrial Display, SKD Modules, Touch Screen Monitors, USB Touchscreen Monitors, and industrial PC and so on. SEETEC focuses on Broadcast Grade LCD Monitors, Industrial Grade Monitor, Broadcast Converters, and USB Capture.