Brand Name: 

LAVOKOL

Origin: 

CN(Origin)

Color Temperature: 

Others

Lighting Type: 

RGB Video Light

Package: 

Yes

Brightness Adjustment Range: 

0 – 100%

Model Number: 

A10 RGB&Warm&Cold Color LED Light

Certification: 

CE

Key Feature 1: 

APP Wireless Control

Key Feature 2: 

Take a photo to pick the color you want

Brightness Adjustment Range: 

0 – 100% (100levels)

Output Power: 

6W

Weight: 

80g (only 1pcs light panels)

Main Material: 

ABS/PC

CCT: 

3200K-6200K

RGB Color Range: 

0-360° Full Color

CRI: 

98+ Ra

Battery Capacity: 

3.7V 2000mAh Lithium Battery

100% brightness battery life: 

about 60 mins

Low brightness battery life: 

up to 12 hours

Modes: 

15 Kinds of Modes
LAVOKOL A10 RGB Light
RGB + Warm & Cold Color
Wireless Bluetooth APP Control
Product Feature:
— APP Control(Easier to adjust lighting)
— Take a photo to pick color in APP
— RGB Mode (0-360° full color)
— Warm & Cold Mode (3200K-6200K)
— 15 Kinds of Lighting Effects
— Max 12 hours Working time
— CRI Rang 98+ Ra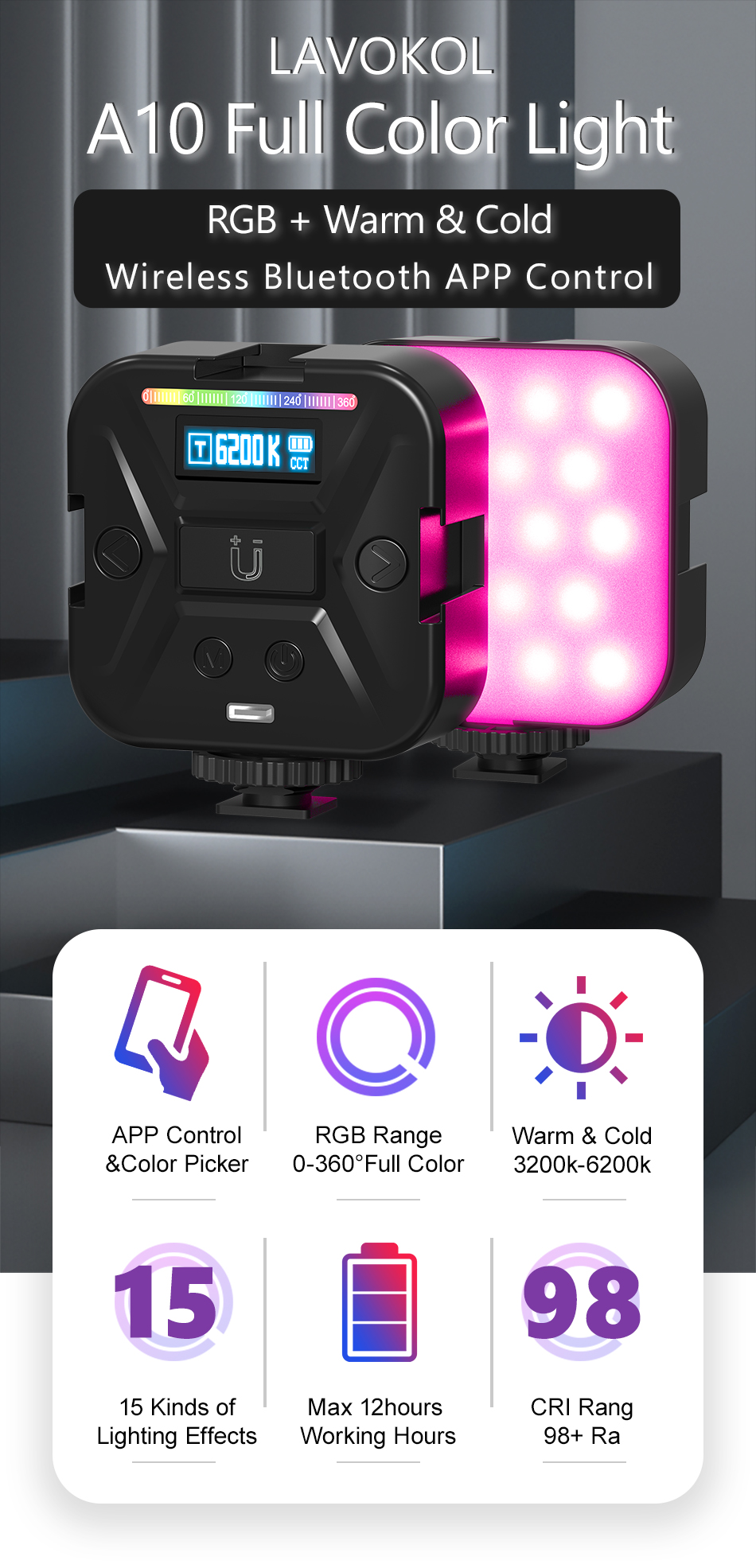 LAVOKOL APP Control
Work with APP wireless control to easily achieve remote lighting setup, remote parameter adjustment and color picker.
Using the APP to control RGB light, it is faster and more convenient to adjust to the light mode and effect you want.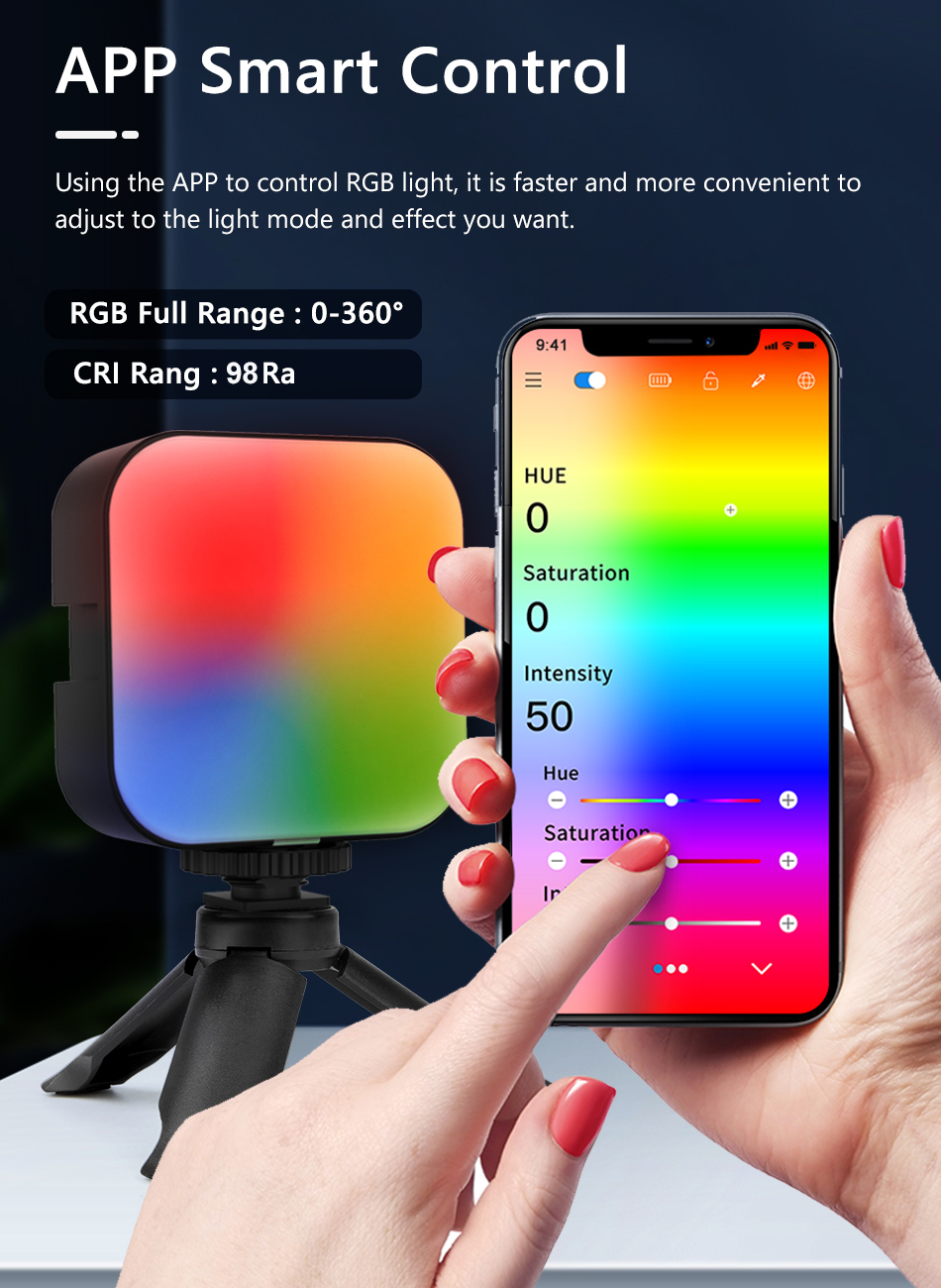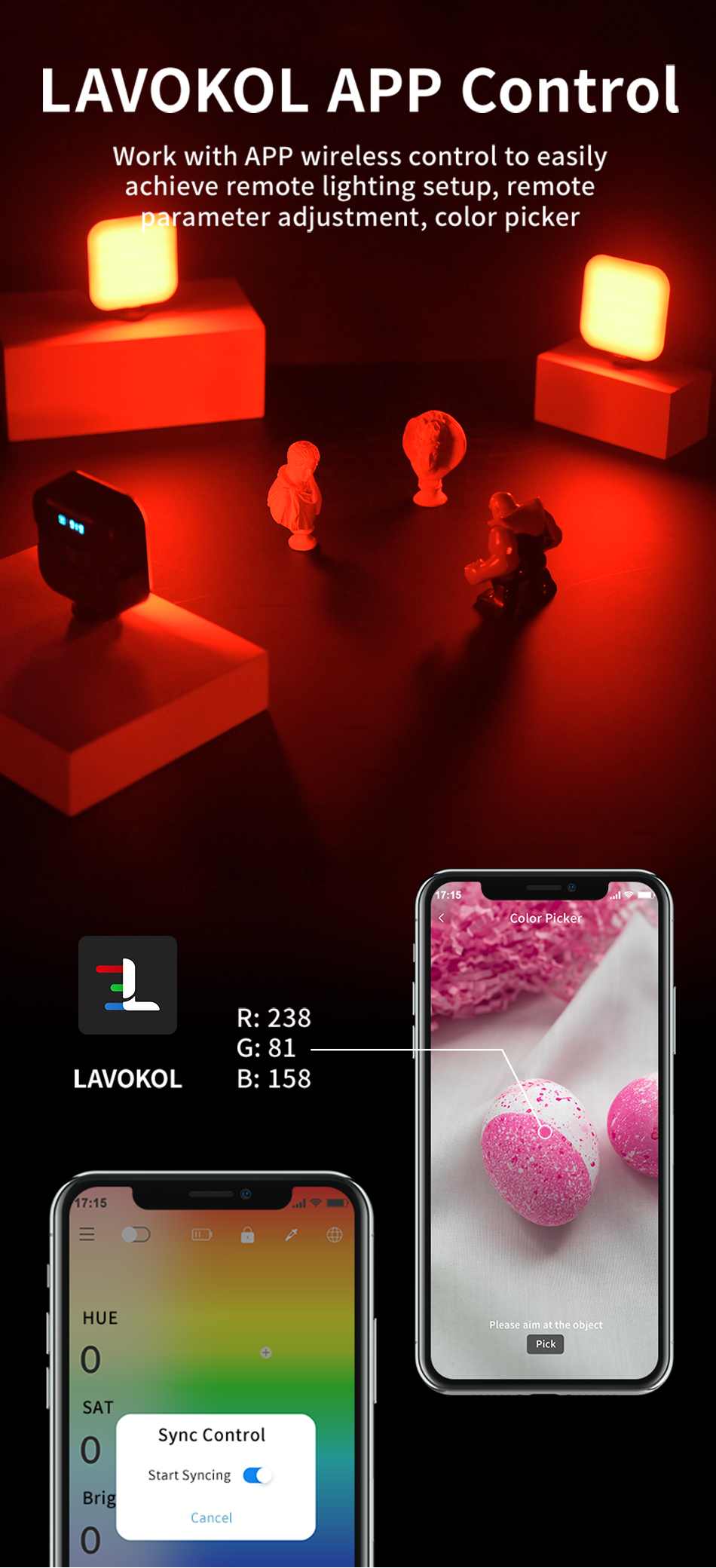 Take a photo and Pick the color you want
Select the color picker function in the APP, take pictures anytime, anywhere, and you can select the color you want in the photo, then the RGB light will immediately change to the color you extracted.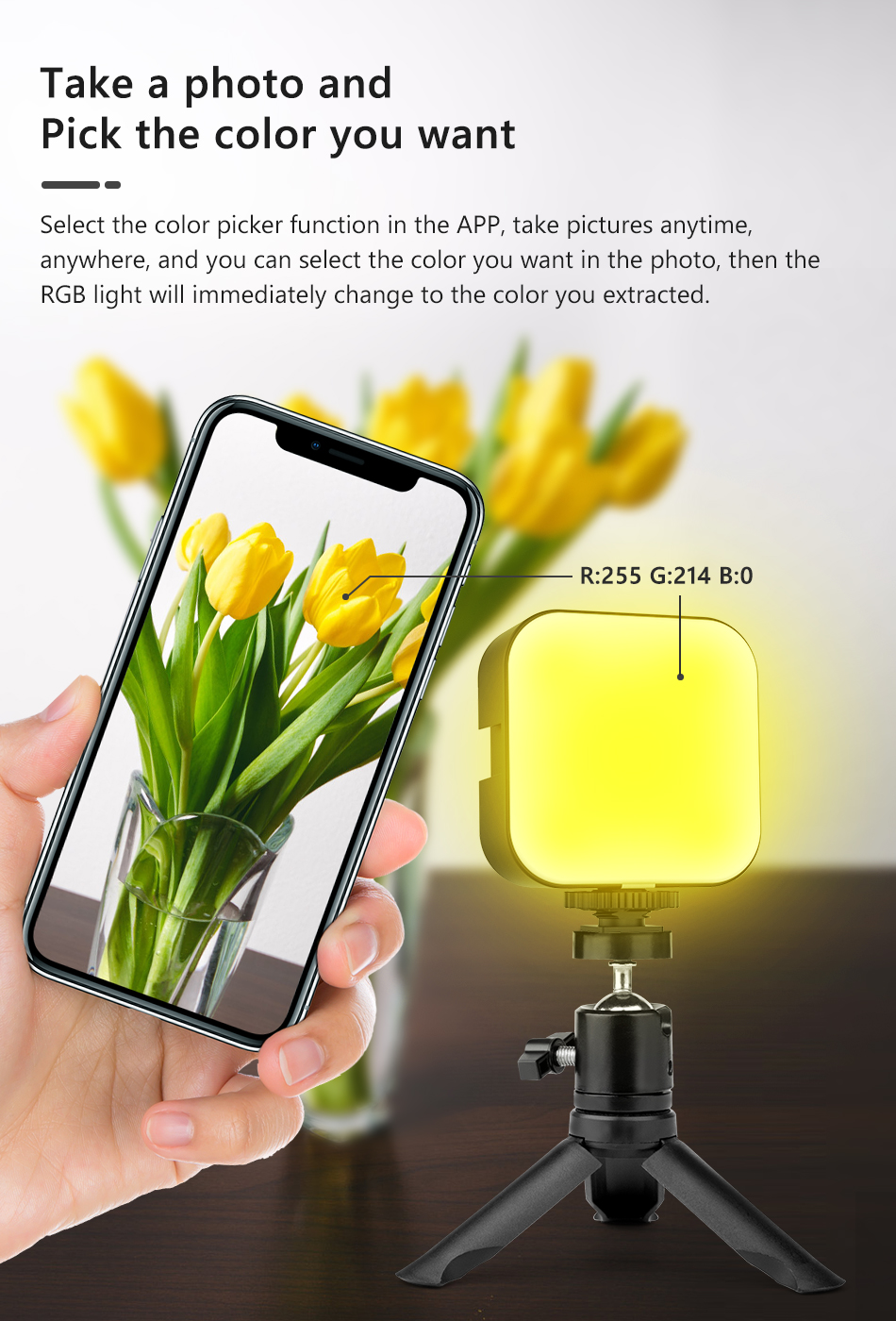 0-360° RGB Full Color
0-360″ kinds of colors can be quickly selected,visualized operation of color brightness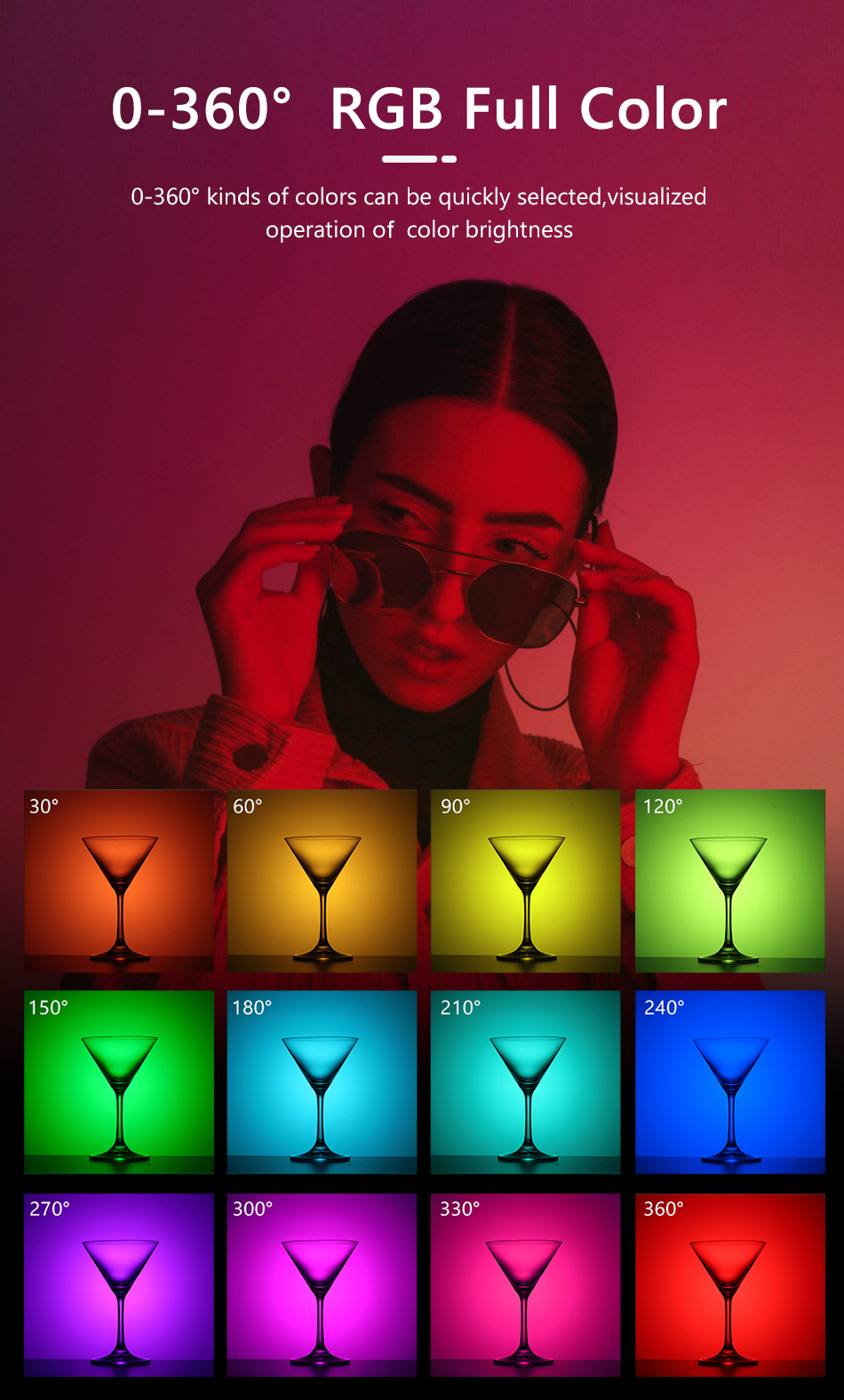 3200-6200K Double Color
3200-6200K color temperature value stepless adjustment,bring more atmosphere layout to creation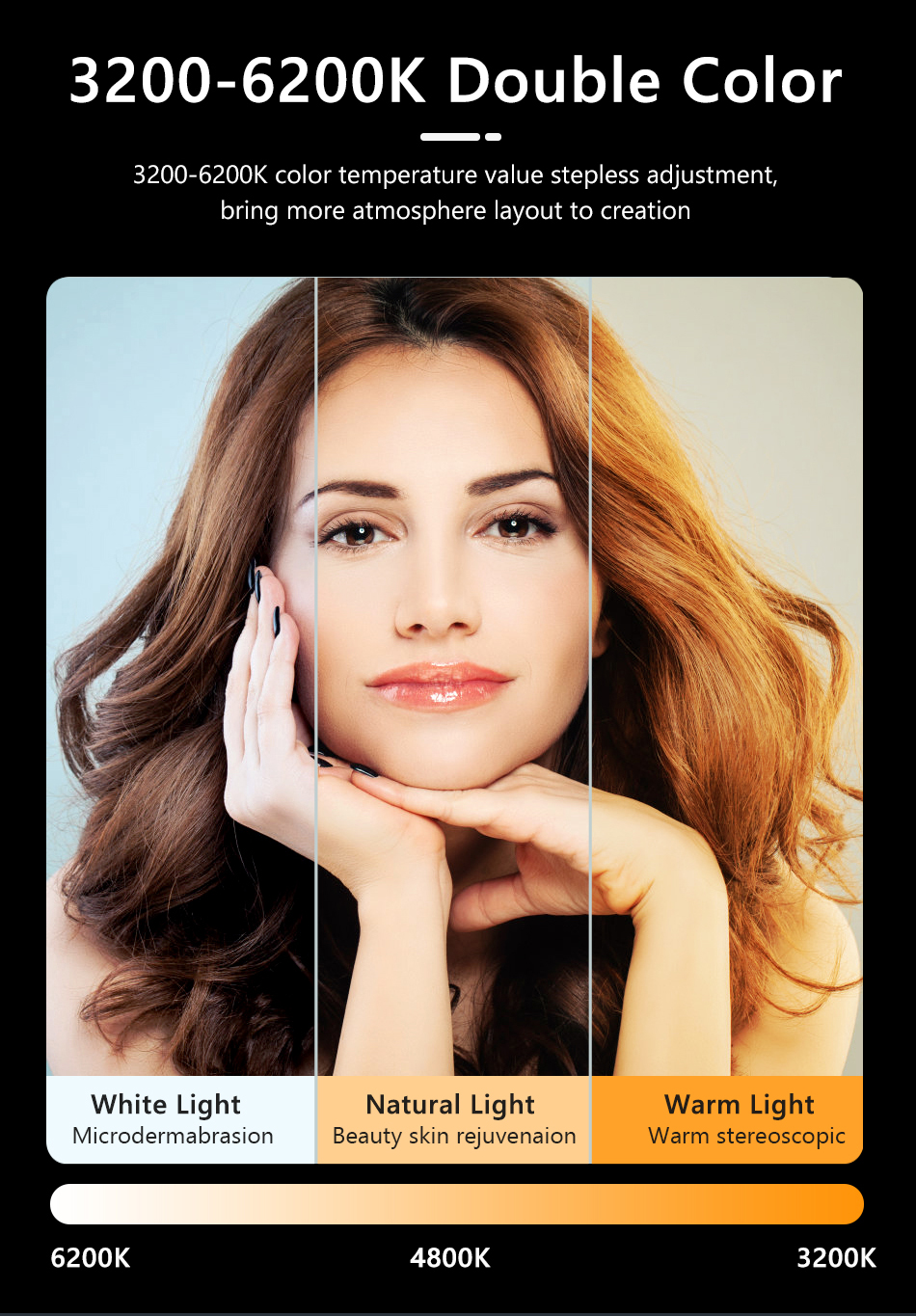 100 Levels Brightness Adjustment
0-100% a total of 100 levels of adjustable brightness,Improve texture and beauty.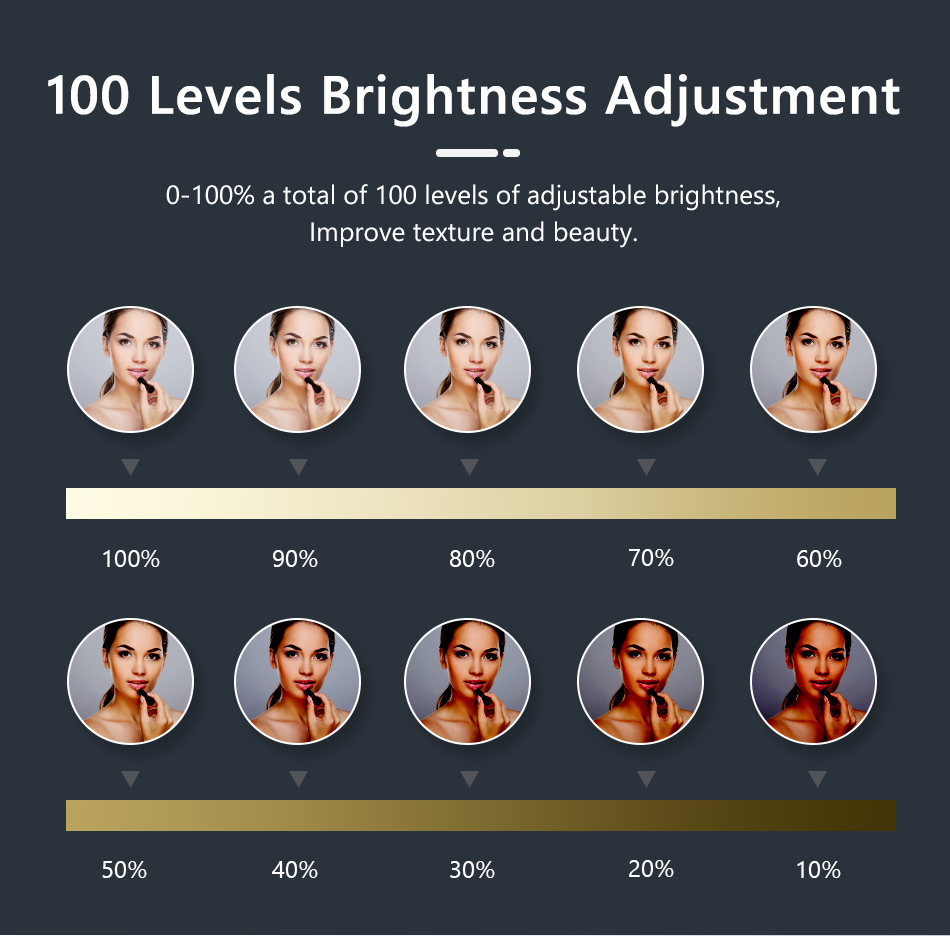 HSI Mode
0-360 Full Colors
over 36000 colors
HUE : 0-360°
Brightness : 0-100%
SAT : 0-100%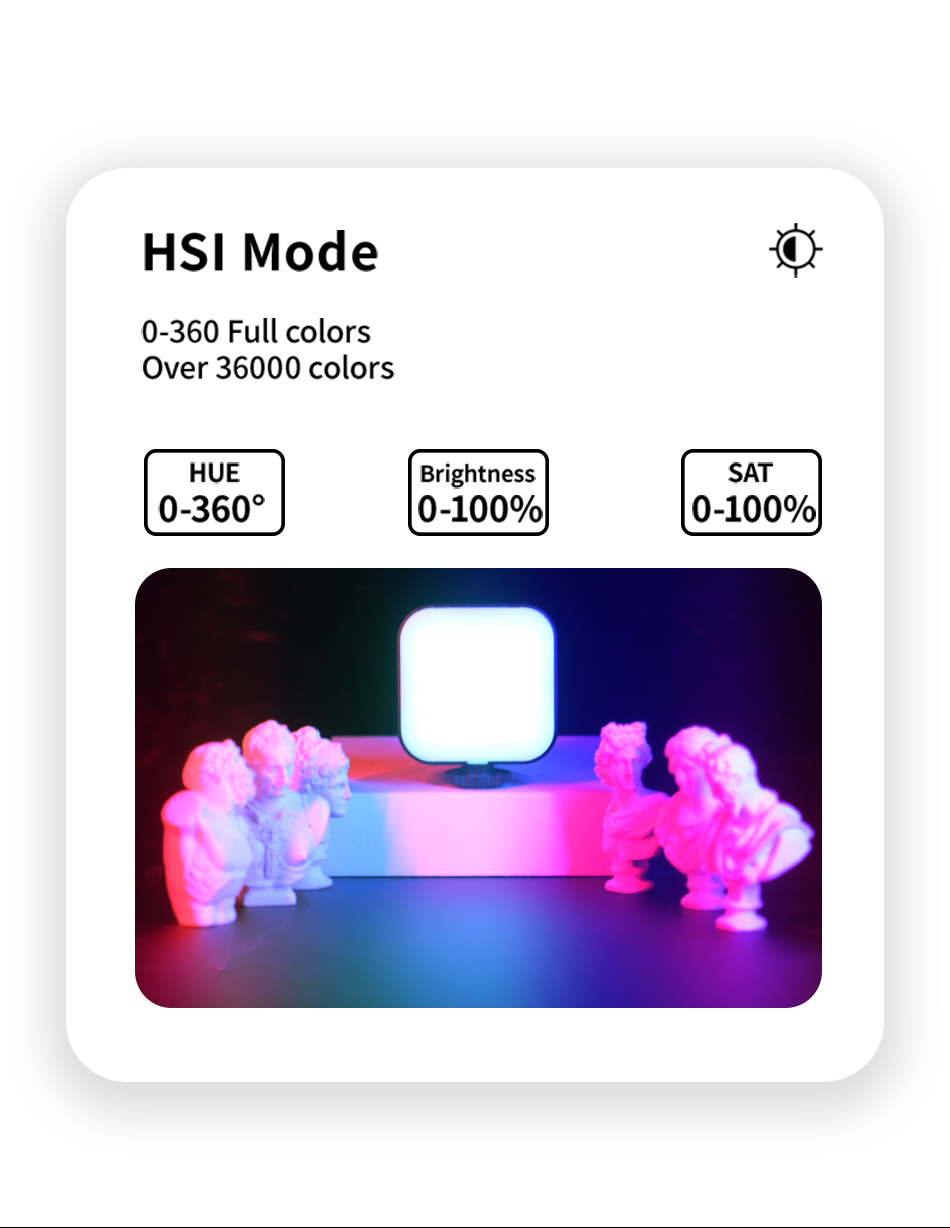 High Brightness + High CRI
Total 64 pcs strong LED light beads.
6W power output and 98Ra+ color rendering index, high brightness and high sensitive color reaction.
Warm & Cold Light
40pcs LED beads
RGB Full Light
24pcs LED beads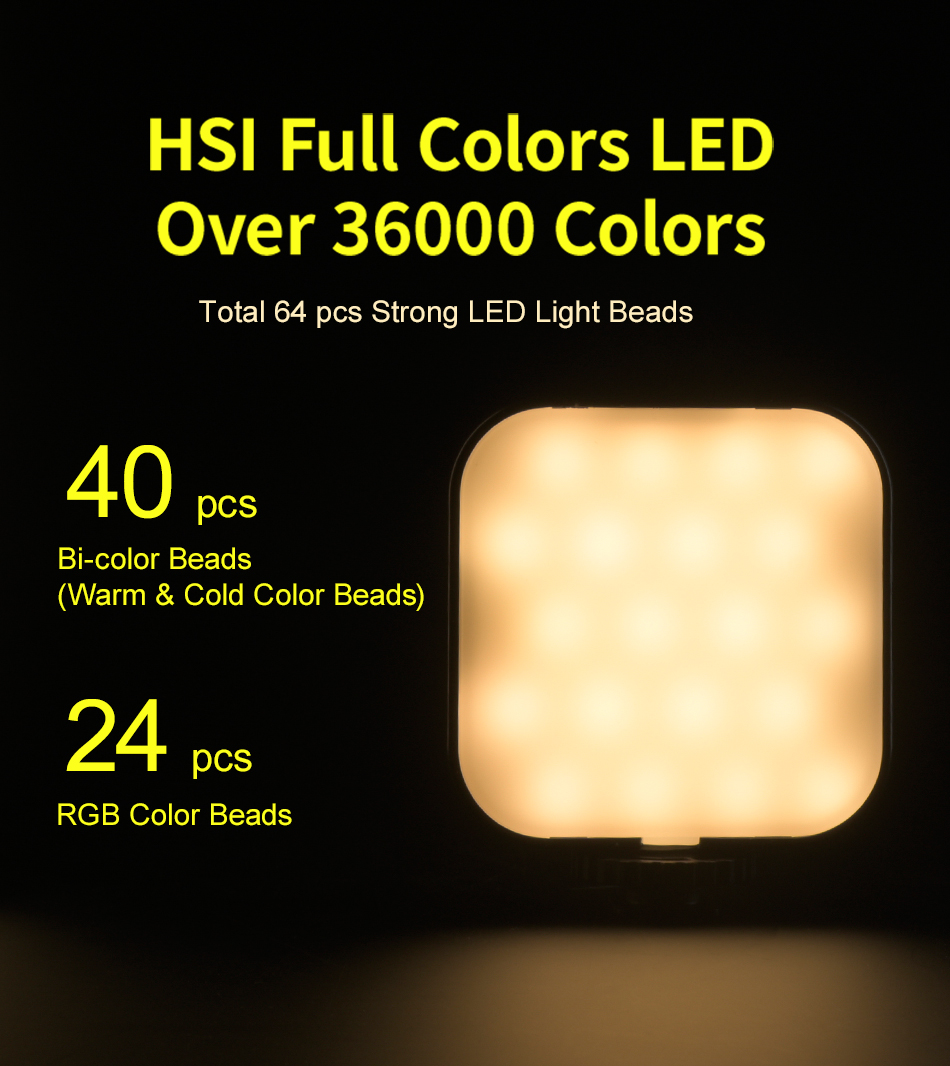 CRI: average 98+
Color science beyond standards
Restores the color texture of real objects

15 Kinds of Lighting Effects
15 Kinds of light effects,simulate real scences,enrich movie scence creativity

3.7V 2000mAh Large Capacity Lithium Battery
Built-in 3.7V 2000mAh Li-on high-quality battery,
which can be recharged by Type-c charging port.
100% brightness battery life: about 60 mins
Low brightness battery life: up to 12 hours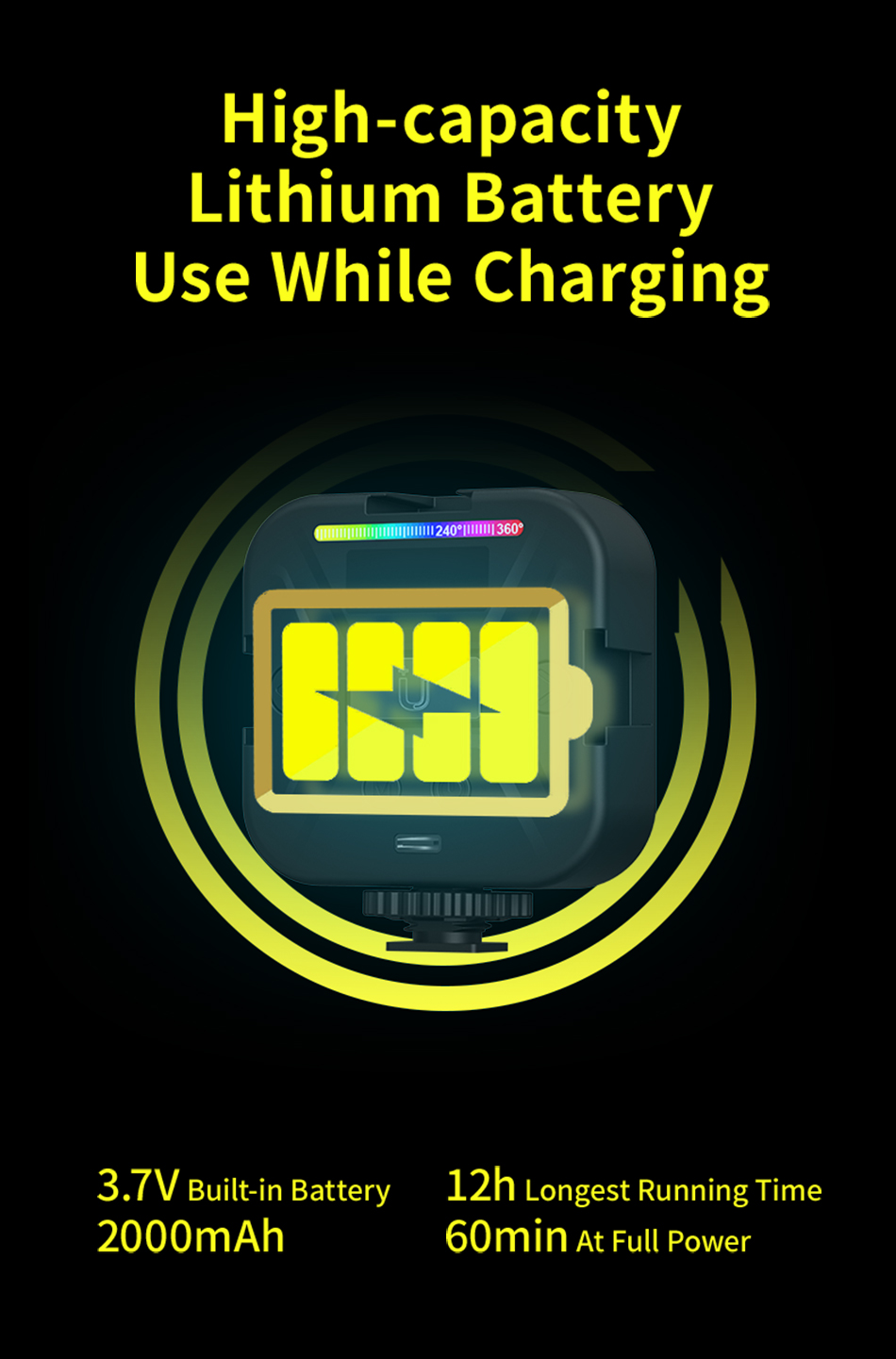 Light Painting
Use the long-exposure mode to record the light trajectory to create 3D images
Press function wheel to switch and adjust G/M compensation

Pocket Size,Light Weight
It is so easy to carry,the weight is about 80g.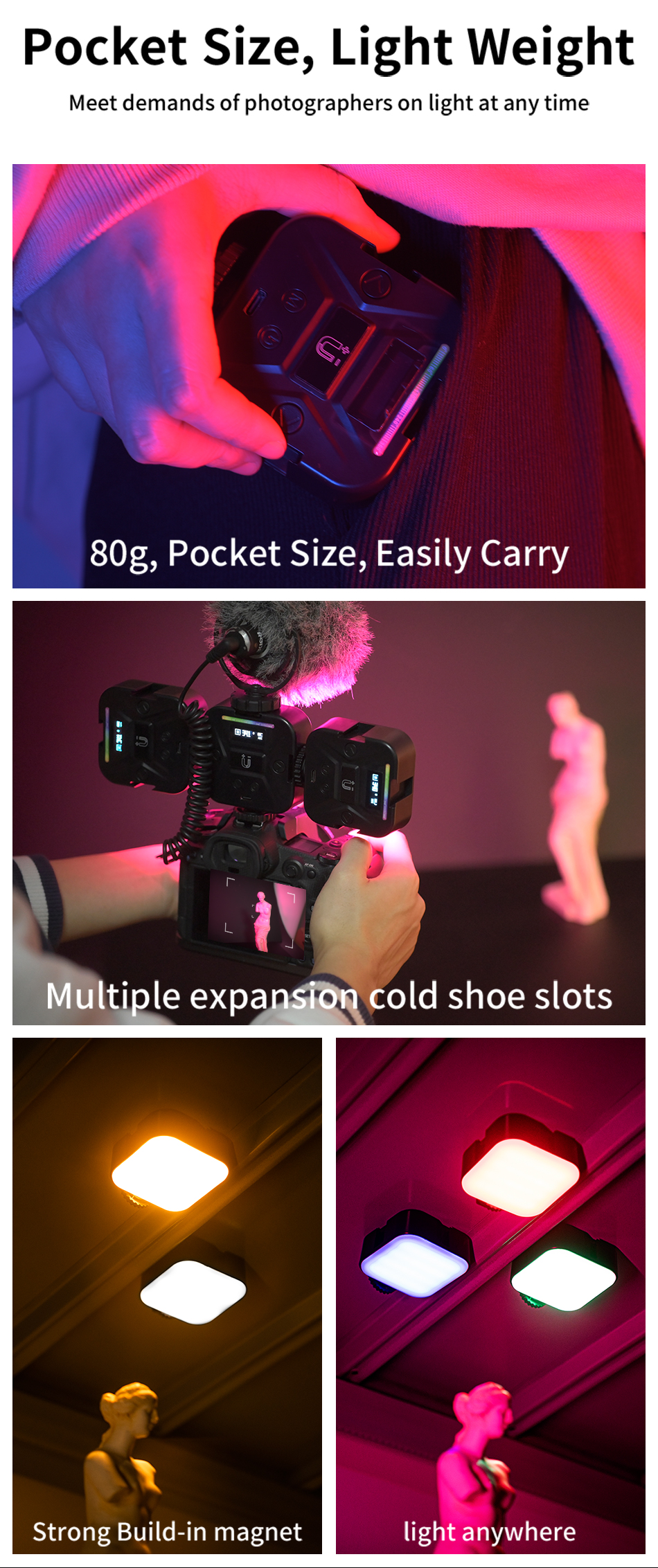 Rich Usage Scenarios
— Portrait Photography
— Food Photography
— Live Streaming Lighting
— Product Photography
— Light Painting
— Outdoor Lighting
— Desktop lighting
— Music Atmosphere
— Party Warm Up
— Fast and Furious

Product Detail