ORDRO-EP7 FPV(first person view) Camera, Capture What You See, Because the moment never comes again
4K @ 60FPS video is clear and smooth, restore every moment of action.
100Mbps helps to record more rich details.
High-resolution lens.
Excellent stereo recording.
Clear sound and delicate images.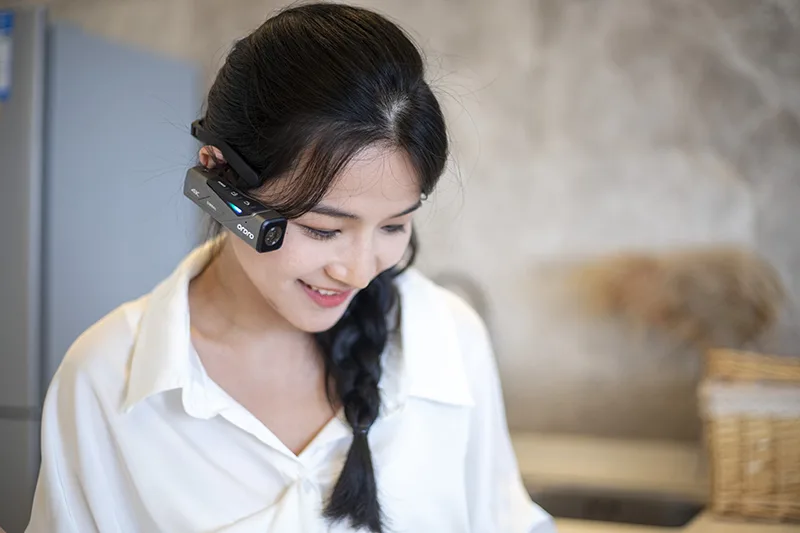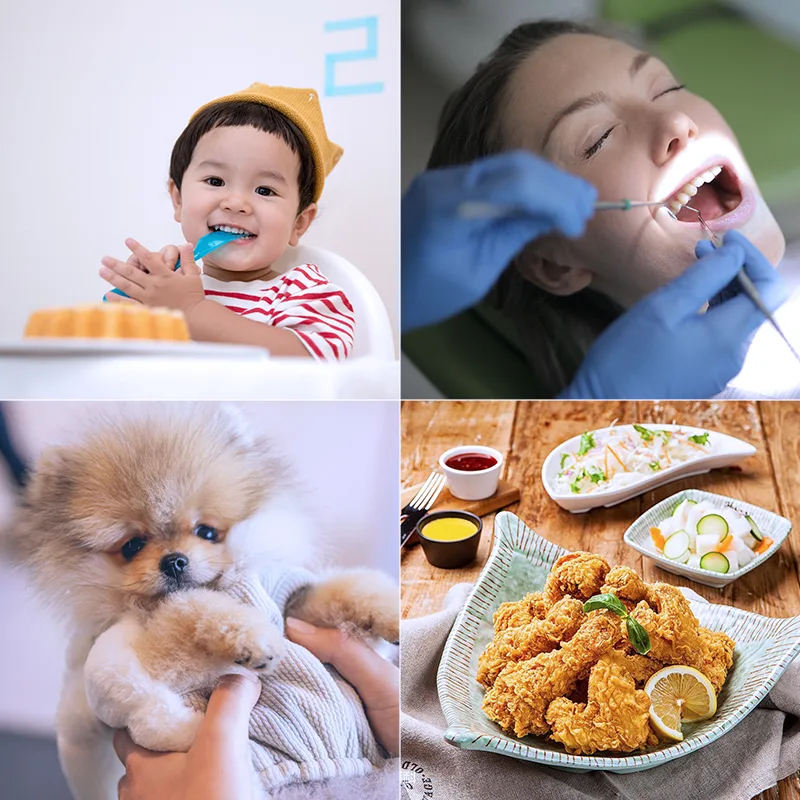 Built-in Mini Gimbal
Effectively avoid up-and-down jitter to meet daily photography needs.
Adjustable Headband
Suitable for most people;
Nylon material, wearing without pressure, not easy to break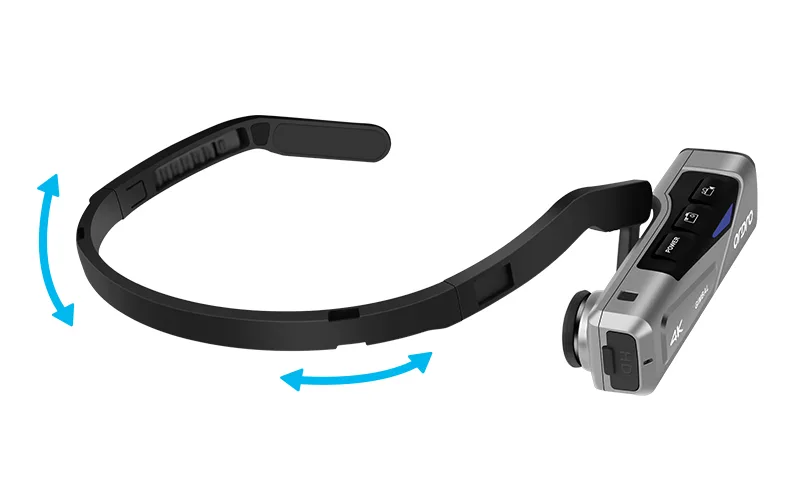 Support Charging While Recording
After full charged, the battery lasts for 1-2 hours, depending on which shooting mode you choose.
Under the condition of wifi connection, you can record video about 45 minutes, then wifi will disconnect automatically.                                   After wifi disconnection, you still can record video about 50 minutes.
Recommend charging while recording if you need long time recording.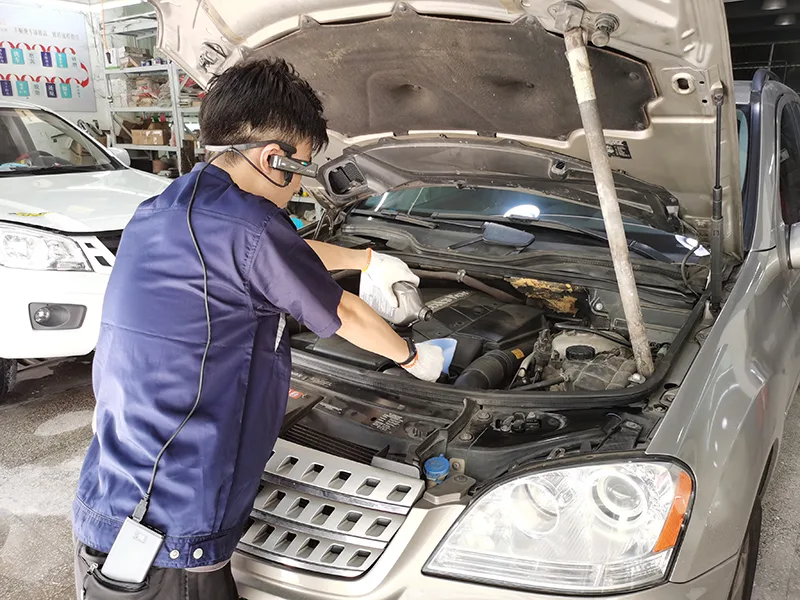 IP65 Dust-proof And Waterproof
Please note: EP7 cannot be worn while swimming and bathing, if the product accidentally falls into the water, take it out in time.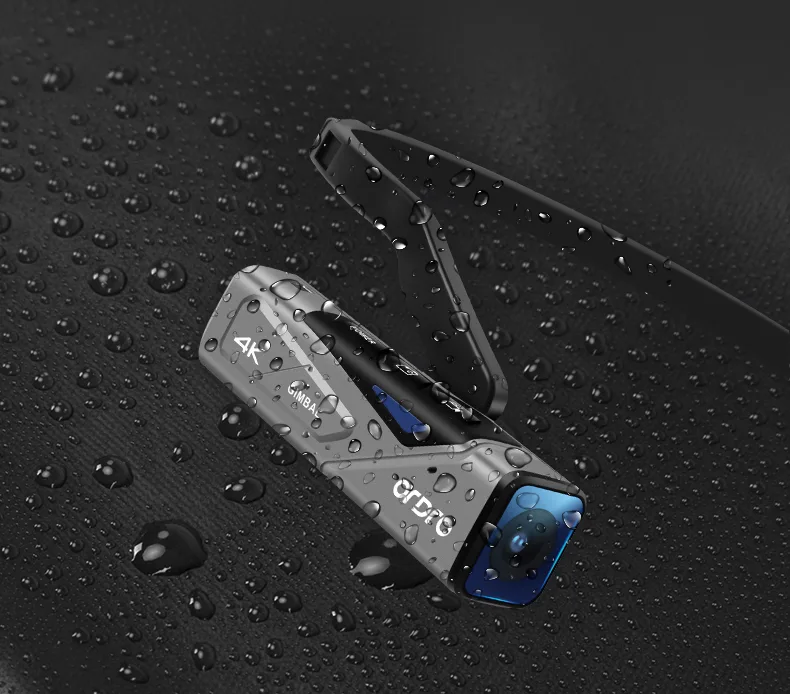 4K HDR Video Showing Rich Details
Restore dark and bright details.
The light and dark transition more natural.
No matter you are in strong light or backlight, you can record full-colored, layered 4K pictures through HDR video function.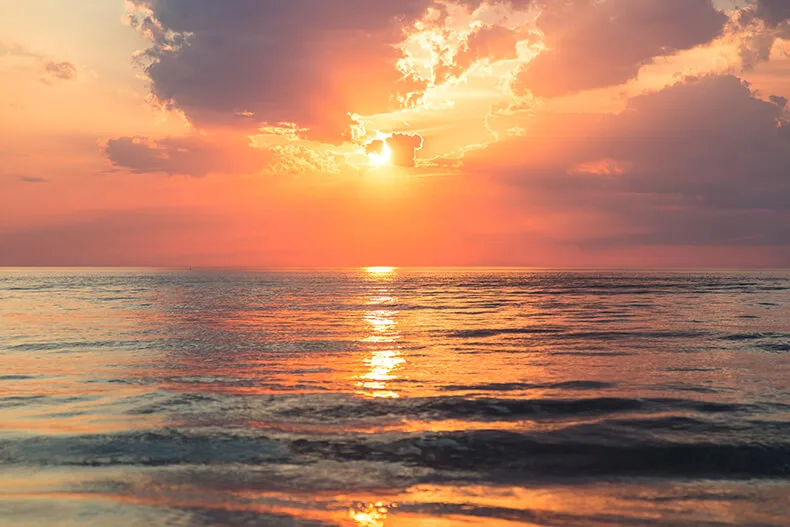 Shoot then share easily
There's no longer a need to compromise your images with your smartphone camera just to share content quickly.  Ordro-EP7 delivers both stunning images and seamless connectivity, for better and easier posting.
The free OD CAM Mobile app for iOS and Android lets you simply transfer, edit and upload videos shot on the Ordro-EP7 instantly to social media platforms, from wherever you are.
CONNECT APP STEPS
1. Turn on the camera, touch the power button to turn on the Wi-Fi. The speaker will emit a sound "Wi-Fi On".                                                       The Blue indicator light on and flashes intermittently.
2. Open smart phone setting – Wi-Fi, find the Wi-Fi name start with EP7(EP7_xxxx), input the password 12345678 to connect it.
3. Open the OD CAM APP , connect your phone with the camera to enter the user interface.
Remote Control (include wristband)
REMOTE CONTROL DISTANCE
TAKE PHOTO: about 8 meters
RECORD VIDEO: about 5 meters
1/4 Standard Threaded Hole
You do not want wear this digital camcorder, it is ok, you can use it with tripods or Gopro helmet bracket.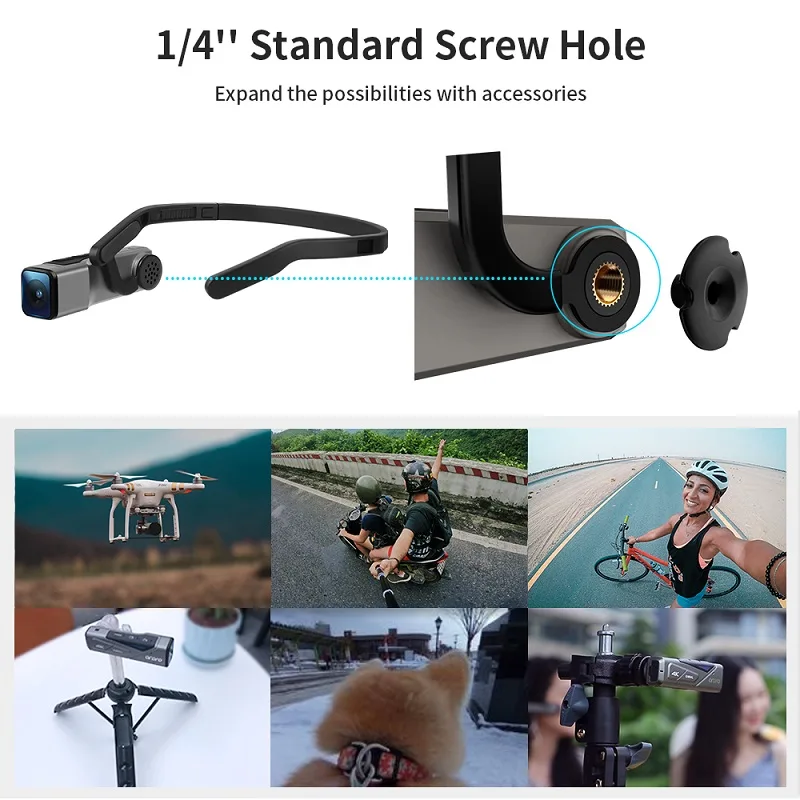 Ultra-compact Body
Camera body is 55 g only, comfortable to wear without pressure.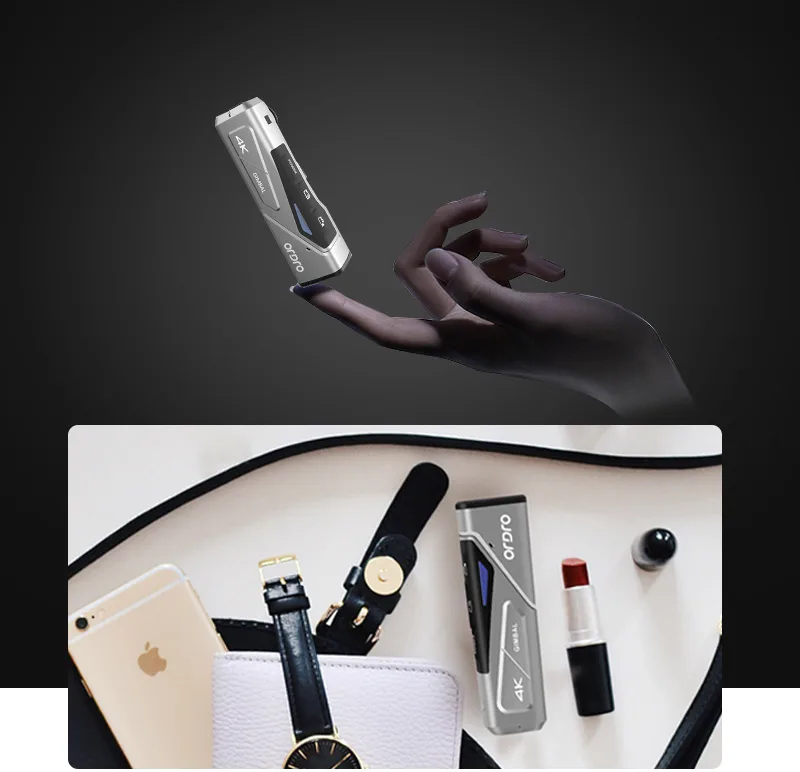 Product Specifications
Sensor: Configure IMX258 1/3 inch CMOS sensor
Aperture: F/NO: 2.2 f=4.88mm
View angle: 90 degree
Focus range: 10cm or more
4K video code stream: 100Mbps
Video format: MP4 / H.264
Video resolution:
4k(3840*2160@60FPS)/(3840*2160@30fps); 2.7k(2704*1524@30fps); FHD(1920*1080@60fps); 1920*1080@30fps; HD(1280*720@120fps)
Photo format: JPEG
Photo resolution: 20M(5200*3900), 18M(4640*3840), 12M(4032*3024), 10M(3648*2736), 8M by default(3264*2448), 5M(2592*1944), 3M(2048*1536), 2MHD(1920*1080), 1.3M(1280*960), VGA(640*480)
Microphone: built-in 2
Speaker: built-in 1
Indicator light: green (power), red(charging), blue(wifi open)
Button: touch button
Wifi: built-in
USB: high speed 2.0
Storage: PLEASE must use U3 grade micro SD card 64GB or above, support max 256GB
Battery: built-in 3.8V, 1000mAh rechargeable lithium battery
Power access: DC5V 1A, micro 5PIN USB
Size: 94mm*23mm*27mm
Weight: 78g
Work temperature: 0-40 degrees Celcius
Dust-proof and waterproof: IP65
APP languages: Chinese, English, German, French, Japanese, Spanish, Italian.
Please Note: camera voice service only supports Chinese, English and Japanese
Packing List
1* EP7 FPV camera
1* W1 remote controller
1* USB charger cable
1* U3 32GB micro sd card
1* Headband
1* Small wrench
1* Screw head
2* Soft rubber sleeve
1* Hook
1* User manual (Support Languages : English; Russian; Chinese)
1* Black storage box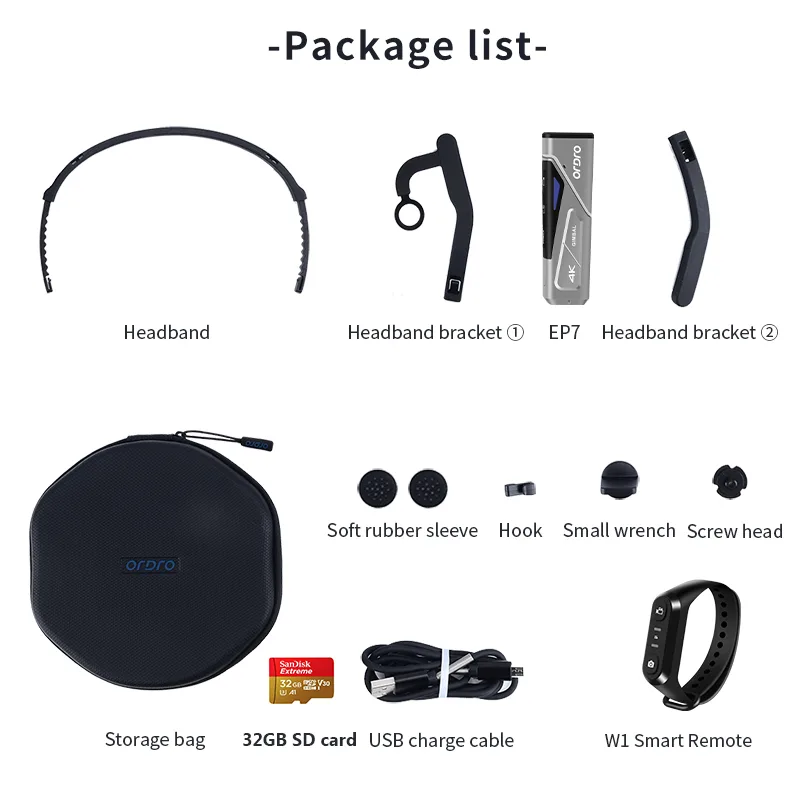 Very Important!
1. Please must read user manual before use this camera.
2. When you receive the camera, please firstly use the included micro USB cable to charge the camera for about 3 hours to ensure that the camera is fully charged.
3. The camera must use U3 or higher micro SD card.
(a) Under the situation of the memory card's format is not compatible with the camera,
(b) the camera will sound "Please hold on the Photo button to format the memory card",
(c) please press the photo button for 5 seconds after the prompt tone,
(d) the camera will format the Micro SD card automatically.
(e) After the formatting is finished, the camera will sound "Format complete".
PLEASE NOTE: Before SD card formated complete, camera can't take photo, can't record video and can't turn on wifi.
4. Poor lighting will affect the shooting effect, please use this camera with sufficient light.
5. Automatic segmentation every 5 minutes when recording video with 4K / 2.7K resolution; Automatic segmentation every 20 minutes when recording below 1080P (including 720P / 480P). Please refer to DJI and Gpro action cameras.
6. WIFI cannot be turned on when the battery is low (15% -20%).
7. If the camera cannot be turned off, please open the micro SD card slot cover and press "RST" hole to reset the unit.
8. Anti Shake function only work at up and down moving. You will find video unstable if you shake your head left and right.
9.PLEASE CONTACT US FIRST if you have any problem when you use this camera, we will do our best to help you.
FAQs
Q: How to replace the internal battery?
A: Please send the product back to us and we will replace the battery for you for free.
Please note: Due to the complicated structure of the camera, only professional technicians can replace the internal battery.
Q: Can I wear this vlog camera for surfing?
A: This camera is suitable for outdoor sports such as cycling, hiking, etc.
But it is not suitable for extreme sports such as surfing, skiing, skydiving, etc.
Q: What SD card should i use?
A: U3 micro SD card with storage capacity of 32GB or above.
Q: Why the videos recored by this camera was cut into segments every 5 minutes?
A: It is a file system limitation, which don't allow more than 4gb file sizes.                                                                                                                   so the camera will automatically create multiple clips with like 3.5-3.9gb sizes. A lot of cameras do that, not just EP7.
Q: Can i use this camcorder without APP and internet?
A: Yes, you can take picture and recording video without APP and phone, because the camcorder body has physical buttons.
Q: What is the difference between ORDRO EP7 and Gopro action camera?
A: If you have a GoPro, you need to wear it on your wrist or Gopro helmet bracket, it is non-first perspective.
But ORDRO EP7 has unique first-view design, what you record is what you see.
Q: Does it work at sub-zero temperatures?
A: Normal working temperature of ordro ep7 is minus 15 degrees to +40 degrees.
Q: Why video is not smooth?
A: 4K video must be displayed on device which has 4k resolution, such as 4k computer or 4k TV. If you shoot video at 4k@60fps or above, you must play video on 8K device. And if the device hardware configuration is too low, video will freeze during playback.
Q: Why the App shows "No connection to the device"?
A: After your smartphone connected the wifi, please don't leave wifi setting page and wait a while, you will see a message says "this WLAN networks has no internet access. connect anyway?" please select "connect". Then you can go to App to connect device.